The WTA has decided to end its boycott of China despite its demands over the welfare of former player Peng Shuai not being met.
The ex-Wimbledon doubles champion and world number one in the format caused a storm in November 2021 when she wrote a detailed post on social media making allegations about a relationship with high-ranking Chinese official Zhang Gaoli.
The post was swiftly removed and Peng disappeared from public view, sparking concern across the tennis world about her welfare.
Tournaments were suspended in the country because of the coronavirus pandemic but the WTA responded strongly to the situation, with chief executive Steve Simon saying the tour would not return to China unless there was an investigation into Peng's complaints and independent proof of her welfare.
He admitted on Thursday neither of those stipulations has been met but the WTA has suffered without China's investment and will now return to the country in the autumn.
Simon told BBC Sport: "We've been in this for 16 months and we are convinced that at this point our requests will not be met. To continue with the same strategy doesn't make sense and a different approach is needed.
Last month the WTA entered into a "strategic partnership" with private equity firm CVC Capital Partners worth £125million with the aim of increasing commercial growth.
Simon insisted they have not parked concerns about Peng, saying: "We've achieved some assurances from people that are close to Peng that she's safe and living with her family in Beijing.
"We are hoping by the return more progress will be made. We are very proud of the position we took. We're not going to let Peng be forgotten at this point in time."
France's Alize Cornet was the driving force behind drawing attention to Peng's plight but she declined to comment on the return to China ahead of the Billie Jean King Cup tie against Great Britain in Coventry.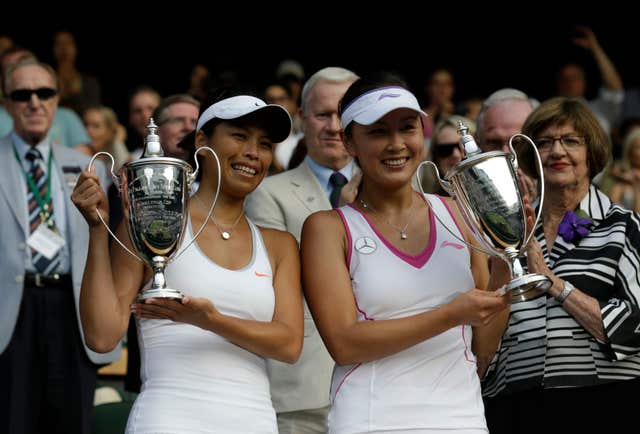 Human rights organisation Amnesty International raised concerns about the decision, with China researcher Kai Ong saying: "To date, there's no independently-verifiable evidence that can prove Peng Shuai is truly safe and free.
"We're reminding the WTA of the structural hurdles many survivors of sexual violence in China face when seeking justice and remedy.
"Returning to China without continuing to push for an independent investigation into Peng's accusations risks perpetuating the systemic injustice faced by sexual violence survivors in the country."