Erik ten Hag still does not know the full extent of Lisandro Martinez and Raphael Varane's injuries but says there can be no excuses as Manchester United prepare to face Nottingham Forest.
Thursday's Europa League quarter-final against Sevilla looked set to end in a comfortable first-leg win, only for it to unravel in a chaotic, and potentially costly, 2-2 draw.
Tyrell Malacia's 84th-minute own goal was compounded by a serious-looking injury to Martinez, who pulled up in pain gripping his right ankle and was eventually taken away on a stretcher.
United had already lost fellow first-choice centre-back Varane to injury at half-time and his replacement Harry Maguire scored an unfortunate own goal in stoppage-time.
Asked if he could provide an update on Martinez and Varane on Friday lunchtime, Ten Hag shook his head and said: "Sorry, no.
"It's not even 24 hours, so I don't have a complete diagnosis so I can't tell in this moment."
Ten Hag downplayed concerns that Martinez had sustained an Achilles injury in Thursday's post-match press conference but was coy the following day when asked about reports the defender had broken a metatarsal.
"I can't say in this moment," the United boss said. "When we have news, we will give it straight to you.
"But let's do the medical, do the assessment, fully diagnose, complete the diagnosis and then we will give the news.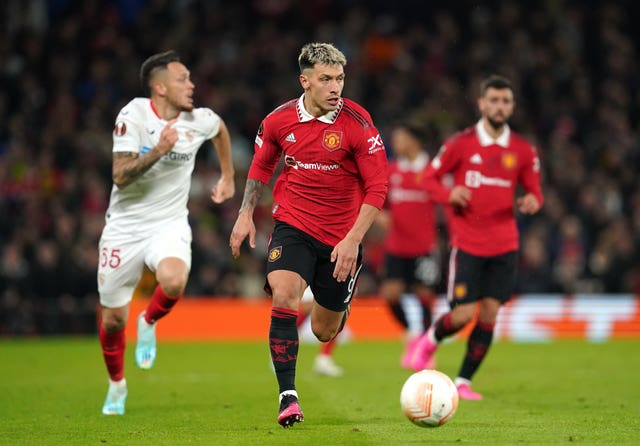 Back-up centre-backs Maguire and Victor Lindelof will have an important role to play in the pair's absence, which adds to an injury list that includes Marcus Rashford, Alejandro Garnacho and Donny van de Beek.
Ten Hag hopes Luke Shaw and Scott McTominay can return to fitness at Forest, but even if they are not ready the United boss underlined the importance of squad players stepping up.
"Every game is a battle, every game is a fight and you have to be ready for that fight," he said ahead of Sunday's Premier League match.
"We have a squad. I have said all season we have more than 11 starters, so now others are on and when their time is there you have to show and contribute to the team.
"You have to be ready. That is what we expect, that is what we demand."
"If you want to find excuses or set excuses, then you don't have to play for Man United and you have to look for another club.
"You have to wait for your moment and when the moment is there you have to contribute, you have to bring your performance and that is what we demand."
United have no time to wallow given the Forest match is followed by the reverse leg against Sevilla and next Sunday's FA Cup semi-final against Brighton.
There would have been less strain heading into those cup clashes had the Red Devils deservedly extended their lead on Thursday and effectively killed off the quarter-final.
The United manager defended his changes immediately after the game and did so again on Friday, using a more colourful phrase to say everything is easier in hindsight.
"It's easily (said after the event)," the Dutchman said. "So afterwards, we call it where I am coming from: 'You're looking a cow in the ass'.
"That's what we call it in my region from the Netherlands. That's easy, but when (a player) got sent off, you tell me: 'Why don't you get him off?'"