Officials at Aintree criticised the "reckless actions" of protestors after Merseyside Police arrested over 100 people after they attempted to gain entry to the track ahead of the Randox Grand National.
Dozens of activists climbed fences at Aintree, with at least two affixing themselves to a fence using glue and lock-on devices, climate and animal rights group Animal Rising said.
The protesters breached security fences as the National runners were in the parade ring, causing a delay of around 15 minutes to the feature event, which eventually got under way at 5.29pm.
Merseyside Police said a total of 118 people have been arrested on suspicion of criminal damage and public nuisance offences, with Aintree praising the response of both police and security.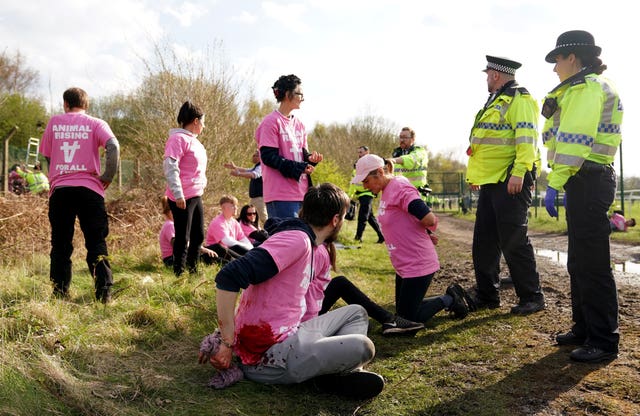 "The police and our security teams, who form part of a strong visible presence on course, dealt with the incident swiftly and decisively. The pre-race parade was cancelled as a result of the short delay.
"The Randox Grand National Festival sees thousands of people come to enjoy racing and a great atmosphere, with millions following on television, radio and online.
"While the actions of a small number of individuals were intended to disrupt the event, the safety and security of everyone on course will always be our number one priority."
"This began earlier this morning, there's been a number of protests outside and then that resulted earlier on today at about 5pm with numerous people trying to incur onto the course, which we, in partnership with the event organisers, and members of the public as well, have managed in the main to stop and and ultimately the event took place – albeit with a slight delay."
He said protesters tried to access the course from a number of points at the far side of the track.
He added: "The perimeter of the course is four to five kilometres long so you know, that is a significant resource required to try and cover every area of that.
"We put a proportionate policing plan in place and, by and large, we were able to stop the vast majority entering onto the course, a small number did get onto the course, but, very quickly, they were removed, again in partnership with the event organiser, private security and police officers and staff."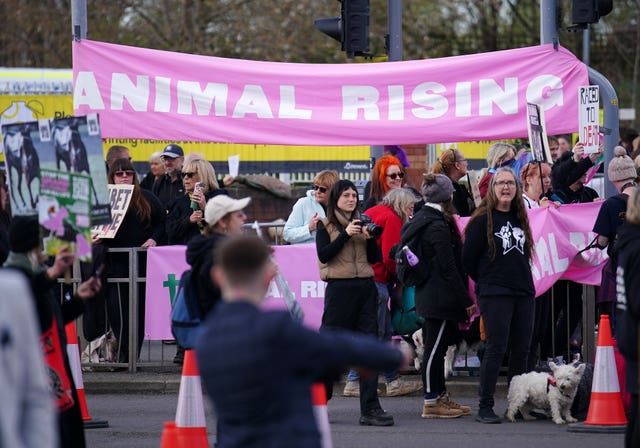 North West Motorway Police said on Twitter: "We have a number of people sat on the M57 at junction 2 northbound – motorway is closed."
National Highways said traffic was stopped in both directions on the motorway – between junctions one and two – shortly before 5.15pm, but by 6pm the southbound carriageway was reopened and northbound traffic was being diverted via a slip road.
There were delays of more than an hour on the road, which runs from the M62 to Aintree.
Pictures showed protesters wearing pink T-shirts on the carriageway.
Out of 39 runners, 17 horses finished the race with the Sandy Thomson-trained Hill Sixteen suffering a fatal fall at the first fence.