The fines the Lawn Tennis Association received for its ban on Russian and Belarusian players at tournaments last summer have resulted in the organisation making a financial loss.
The LTA, which runs the pre-Wimbledon grass-court tournaments, was fined a total of 1.75million US dollars (approximately £1.4million) by the WTA and ATP for refusing to allow players from the two countries to compete following the invasion of Ukraine.
The sanctions and the threat of further punishment, including potentially having the tournaments stripped from Britain, were a major factor behind Wimbledon and the LTA deciding not to continue the ban for this summer.
Now LTA chief executive Scott Lloyd has revealed the governing body will announce a loss for 2022, although an appeal to the WTA should result in 375,000 dollars (approximately £300,000) being paid back following this summer's tournaments.
The LTA has also asked the ATP to reduce its fine given the ban has now been lifted and is waiting to hear the outcome.
Lloyd admitted it has affected the LTA's investment in other areas, saying: "We would have spent those funds in a different way. We'd rather not invest them in fines.
"Does it mean we have fundamentally retracted from our performance competition calendar in 2023? No, because we feel so strongly that is the right thing to do and the right thing to continue to invest in, so we have prioritised doing so.
Another contributing factor to the overall loss were the LTA's successful bids to host a round of the Davis Cup Finals in September and then the Billie Jean King Cup Finals last November, both in Glasgow.
Ticket sales, particularly for the latter, were never likely to cover the cost but Britain outperformed expectations by reaching the semi-finals and Lloyd, who refused to reveal the extent of the deficit, insisted it was money well spent.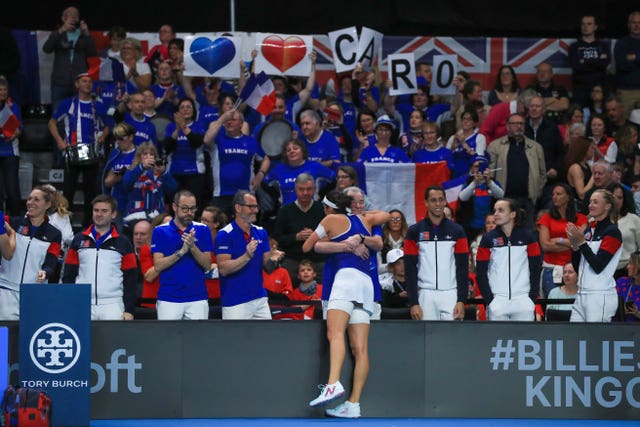 Britain will host the Davis Cup again in Manchester in September but will not stage the women's equivalent after telling the International Tennis Federation it was not prepared to underwrite the staging costs this time.
The 3-1 loss to France over the last couple of days in Coventry therefore means Anne Keothavong's side will miss out on the finals and will have to contest a relegation play-off in November.