Mark Allen has no desire to sift through the detritus of his Crucible career to date as he prepares to embark on his latest quest to shed the unwanted tag of one of the best players never to reach a World Championship final.
The 37-year-old Allen is convinced he is in the shape of his life after a season that has yielded three ranking wins, including a maiden UK title in November, in tandem with a dramatic weight-loss programme through which he has shed almost seven stone.
Yet Allen cannot escape statistics that betray a desperate record in the sport's flagship event, with just three last-eight appearances in the 13 years since he made his solitary outing at the one-table stage, losing to John Higgins in the 2009 semi-finals.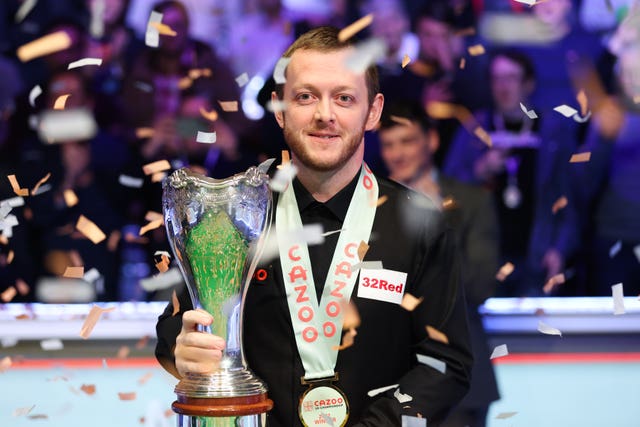 Another Chinese qualifier, world number 36 Fan Zhengyi, awaits Allen in the opening round on Monday and the Northern Irishman is in no mood to reopen old wounds as he continues to seek the magic formula that will enable him to fulfil his burning ambition.
"I'm coming to the Crucible on the back my best season to date and my confidence levels are high, but one semi-final appearance is not good enough and the only person who can put that right is me," Allen told the PA News agency.
"I love the Crucible and the history that is attached to it, and I want to be a part of that history. Maybe there's a little bit of wanting it too much. It's always been my dream since I started playing at the age of 12 to be world champion and world number one."
Allen certainly appears to have put himself in the best possible place to achieve those goals, and he believes it is no coincidence that his triple-title season has coincided with his determination to forge a new approach to his off-the-table outlook.
"If you'd told me 10 or 15 years ago that I wouldn't have won a world title at the age of 37, I'd probably have seen myself coming to the end of my career.
"But these days 37 seems to be the new 27, and I'm probably just reaching my peak. When you see guys still winning major tournaments in their late 40s, it makes me realises that I've still got a lot of chances, and so much left to offer."