Four-time champion John Higgins welcomed the increased security at the World Snooker Championship as he highlighted the importance of deterring "copycats" after protesters disrupted play at the Crucible on Monday evening.
Robert Milkins' match against Joe Perry was interrupted when a man wearing a 'Just Stop Oil' T-shirt jumped on to table one and tipped orange powder over the cloth.
A woman was prevented from executing a similar stunt on the other table after being tackled by quick-thinking referee Olivier Marteel, with South Yorkshire Police later confirming two people had been arrested on suspicion of criminal damage.
Security was stepped up at the Sheffield venue on Tuesday, with staff stationed at ground level, close to the tables, as well as at the top of the stairs.
After completing a 10-3 victory over David Grace in the first round on Tuesday afternoon, Higgins was pleased action was being taken, warning that others may be tempted to copy the protesters' actions or even go further if they see venues as an easy target.
Higgins said: "People are copycats with what they do sometimes, so if people see that it maybe could be that easy to do things like that then they could have it in their minds to maybe do something worse.
"So that's the reason why it should be beefed up now, everybody should be checked and bags should be checked and everything coming in, without a doubt.
"It's good that they (security staff) are actually stationed down there now, ready for something."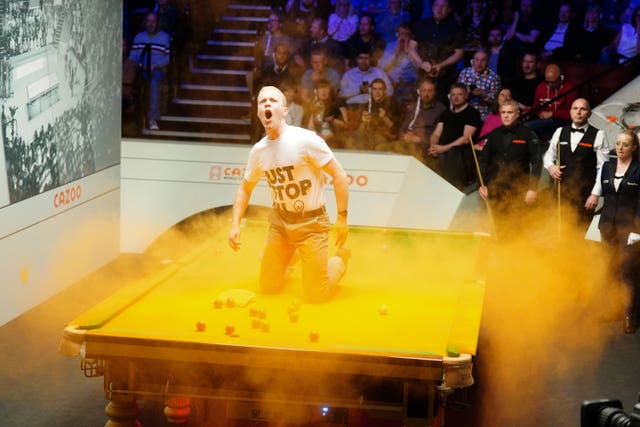 He added: "It's maybe worked out as a good thing in a way, now that authorities are ready to tackle it head on, having beefed it (security) up.
"It probably could work out better for the tournament."
Perry, who returns to take on Milkins in Tuesday's evening session after their first-round encounter was suspended on Monday, was pleased that no-one got hurt in the incident.
He told TalkTV: "Our match has been sort of messed around a little bit. It's not ideal preparation but it's one of those things, no-one was hurt and that's the main thing.
"First of all, your initial thought is 'What is this person going to do?' So you worry about your safety first and foremost, and everyone else's safety around you. That was the biggest thing initially.
"It's just weird, you just act on autopilot, you don't know what to do. Not long after that, security came and grabbed him and then you just hope that everything calms down and you can carry on.
"But as it turned out we couldn't. He'd done enough damage to the table to prevent us from playing so our match has now been rescheduled."
The stunt came just two days after 118 people were arrested at Aintree as they tried to scale the perimeter fence at the Grand National.
Former World Snooker Tour chairman Barry Hearn called for tougher punishments for protesters, telling talkSPORT: "Sport's an easy target. Aintree we saw on Saturday… How long before The Open or Wimbledon or whatever?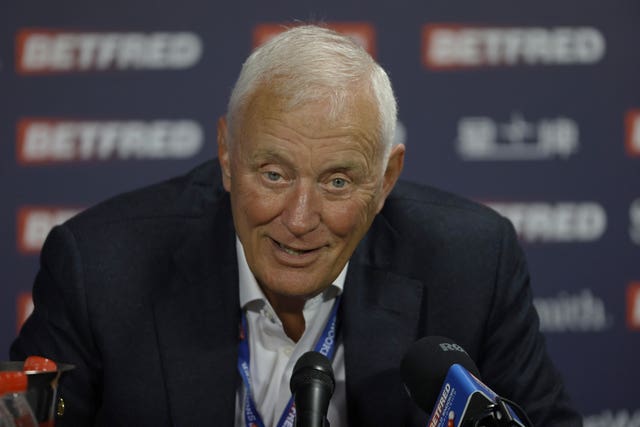 "We're such a soft touch as a nation – smack their wrists, give them a small fine, maybe a bit of community hours, maybe a month in prison. It's a ludicrous situation but what do you do about it?
"The problem is there's not enough deterrent out there for these people to do anything but get away with it.
"It might cost them a few hours of their freedom but there's no serious deterrent and, for that reason alone, expect more of these, not less.
"Custodial sentences is my way. I'm a zero-tolerance type of guy."