UK Anti-Doping has confirmed boxer Conor Benn has been charged with an anti-doping violation and provisionally suspended.
Controversy surrounded Benn's scheduled fight against Chris Eubank Jr in October after it emerged on the eve of the contest that the former had tested positive for the banned female fertility drug clomifene.
The bout was postponed and UKAD has now revealed welterweight Benn, who is unbeaten in 21 professional fights, was provisionally suspended on March 15 and charged on April 3.
Benn responded to media reports on Tuesday on Twitter, saying: "I can't comment on anything to do with UKAD other than to say that I am in touch with them.
"Someone at the BBBoC or UKAD obviously wanted to create a headline unlike the Khan case where it was kept quiet for 14 months but this is nothing new. I remain free to fight outside the UK.
"This isn't even about my innocence anymore, it's all politics. You can't keep a good man down."
A UKAD spokesperson said in a statement: "Following a public consultation in late 2020, and having considered the results of that consultation, UKAD's board decided in February 2021 that UKAD will not routinely publicly disclose the fact that an athlete has been charged or provisionally suspended before a charge has been resolved.
"However, it was also recognised that there might be limited and rare examples where it is appropriate to do so in 'exceptional circumstances'.
"Following reports in the media and comments made by professional boxer Mr Conor Benn on Tuesday, April 18, 2023, and in exceptional circumstances, UK Anti-Doping (UKAD) confirms that Mr Benn was notified and provisionally suspended by UKAD on March 15, 2023 in accordance with the UK Anti-Doping Rules.
"Whilst provisionally suspended, Mr Benn is prohibited from participating in any capacity (or assisting another athlete in any capacity) in a competition, event or activity that is organised, convened, authorised or recognised by the British Boxing Board of Control or any other World Anti-Doping Code-compliant sport.
"UKAD can also confirm that on April 3, 2023 it charged Mr Benn with an Article 2.2 violation for the alleged use of a prohibited substance (clomifene). The charge against Mr Benn is pending and will now follow the results management process in accordance with the UK Anti-Doping rules."
"There is no news. Being "charged" is a start of a process by which an athlete has to defend themselves. I have not been sanctioned by anyone & I'm not banned from boxing. I remain free to fight in events that are not sanctioned by the BBBoC. I don't even have a BBBoC licence."
Robert W Smith, general secretary of the British Boxing Board of Control, said in a statement: "The BBBoC relies upon UKAD to ensure that professional boxers comply with the UKAD rules and awaits the outcome of the UKAD process in due course.
"The BBBoC will not be making any further comment at this time."
Benn's promoter Eddie Hearn criticised UKAD and the BBBoC over their handling of the matter, saying he had received no notification of his fighter's suspension and complaining that the entire matter "stinks".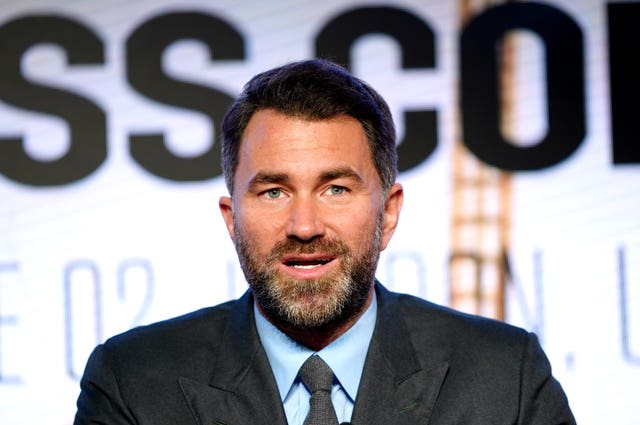 "But I'm coming out of press conferences and being told by the media what is happening about reports of suspensions and bans.
"I've not been notified or told anything of this. It is the most bizarre situation I've ever been involved in.
"Conor Benn, in my opinion, is not being treated the same way as other fighters. It's a big mess and something doesn't make sense.
"The document and the report has been shared with UKAD, which is a positive thing. He (Benn) has shared it with WBC who have cleared him and reinstated him in the rankings.
"Now he has to go through the UKAD situation, and who knows how long it's going to take? We have to go through the process, but the whole thing stinks."