Mikel Arteta admits he is unsure if William Saliba will play again this season as his recovery from a back injury has not progressed as hoped.
The France defender had started every Premier League game this season before being forced off during the Europa League defeat to Sporting Lisbon last month.
He has not played since, has been ruled out of Friday's clash with bottom club Southampton and is now a major doubt for the top-of-the-table clash at Manchester City next week.
"The picture hasn't changed from last week. Regarding William, we still have to wait a little bit more," Arteta said on the eve of the Southampton game.
"He is not progressing as quick as we hoped. It's a bit delicate and we want to be very certain when we push him that he is ready to absorb the load and the risk that we will take and at the moment that's not possible to do."
Asked if the issue could now leave Saliba sidelined until next season, Arteta added: "I don't know, it's a bit early (to make predictions).
"Probably next week we are going to have more certainty. There is some evolution, he is doing more activity.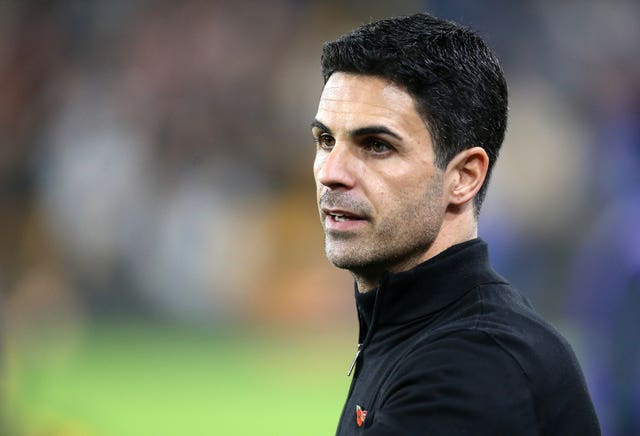 Arsenal welcome Saints having drawn their last two games despite leading 2-0 against both Liverpool and West Ham.
Bukayo Saka missed a penalty that would have put the visitors 3-1 up at the London Stadium, his first failure from the spot since his effort was saved in the Euro 2020 final shoot-out.
Arteta, though, feels the miss could prove a blessing in disguise for a player who bounced back from being racially abused following his miss for England.
"Experiences help, obviously, and what he went through was tough but in a different way it was something beautiful and a great experience for him," added Arteta.
"He loves responsibility but he puts a lot on his shoulders as well. Again, if he had any doubt about how much people love him, respect him and admire him at the club I think he had a very overwhelming reaction from everyone in the building and the club.
"In the end I think it can be something very positive that can give him a big lift because everyone acted in an unbelievable way towards him because he deserves it because of the way he is."
Asked if Saka will remain Arsenal's penalty taker, the Spaniard said: "Yes. If not, I will go on the pitch and throw him the ball to make sure he takes the next one!"