Lewis Dunk insists Brighton fear no one as they go into nine "humongous" Premier League games seeking to secure European qualification to ease their Wembley agony.
Albion's hopes of reaching the FA Cup final for the first time in 40 years were cruelly ended by Sunday's heart-breaking 7-6 penalty shoot-out loss to Manchester United.
The Seagulls have little time to lick their wounds from the semi-final setback as attention quickly turns to nine pivotal top-flight fixtures during the next five weeks.
Captain Dunk believes Brighton have shown all season that they can compete with the division's top clubs and is confident his side can set aside the cup disappointment and be "ready to rumble" going into a hectic climax.
"We're gutted but we've got to dust ourselves off," said the defender.
"We can beat anyone on our day and the good thing now is that we are at a level where we don't go out there and fear people.
"We used to go out there sometimes and we were just trying to keep the score down. Every game in the Premier League was hard.
"But now we are going out there with no fear and I think we can beat any team in the Premier League.
"We have nine humongous games where we want to get into Europe. We will park this loss and will be ready to rumble again."
Brighton's busy end to the campaign begins at relegation-threatened Nottingham Forest on Wednesday evening.
The Seagulls also face leaders Arsenal, title hopefuls Manchester City, a rematch with United and fellow top-eight sides Aston Villa and Newcastle during the next month, in addition to Wolves, Everton and Southampton.
Centre-back Dunk was one of six Albion players to score from the penalty spot at the national stadium after an engrossing tie finished 0-0 at the end of extra-time before Solly March's miss proved decisive.
"I think we were the better side, we just lacked a bit of killer instinct," said the 31-year-old.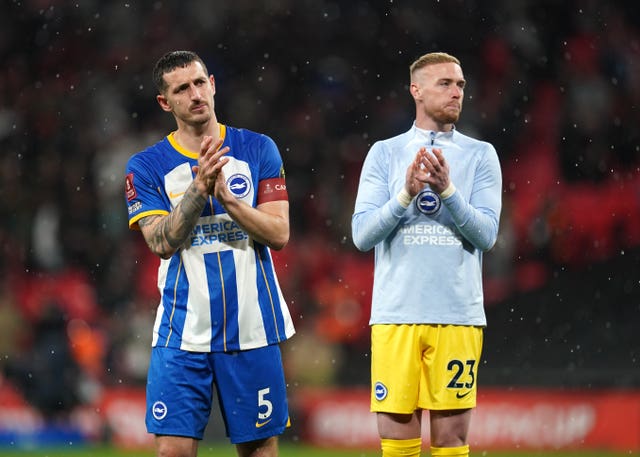 "We were hurting in the changing room afterwards but we've got to pick ourselves up, hold our heads high and go again.
"We can't be thinking about this for too long, we have to forget about this and move on.
"We have got nine games to focus on to get to where we want to be."