Brentford boss Thomas Frank is convinced the "boring" gulf between football's haves and have-nots is "only getting worse".
The 10th-placed Bees maintain one of the smallest wage bills in the Premier League but have routinely punched above their financial weight, entering Wednesday night's Chelsea encounter in the top half of the table, one place above their cash-splashing opponents.
It is a position that delights Frank, but the Danish head coach remained bluntly pessimistic in his assessment of the bigger picture in which his side remain an anomaly.
He said: "The beauty of football is that everything can happen. The beauty of football is that we could go to Chelsea last year and win. And we have a chance (Wednesday). That's the beauty.
"There's very little chance for any club outside the top six/seven with Newcastle that can get into the top four. That is almost impossible. I hope it will happen one day. I don't think it has happened since Leicester won in 2016.
"That's seven years ago and I think it's only getting worse. I think you're seeing PSG (Paris St Germain) in France, I think you're seeing Bayern Munich, hopefully Dortmund will win – they're still up there, one of the two, but you don't see anyone but Bayern or Dortmund that are winning the championship in Germany.
"For me personally I think it's a little bit boring. I think it needs to be a little bit tighter, but I don't think we can change that. I think that's a bigger question for others than me to answer."
Brentford representatives were among those who attended Monday's launch of the Union of European Clubs (UEC), an organisation which seeks to give a voice to over 1,000 professional clubs on the continent.
Crystal Palace chairman Steve Parish was also part of the delegation from five English clubs at the Brussels event, where he warned that "there is a two-speed Premier League – there's a top half and the bottom half and that disparity will get bigger and bigger and bigger unless we put some rules in to try and control it".
The UEC bills itself as an "independent representative body founded to improve support and advocacy for non-elite professional clubs across Europe."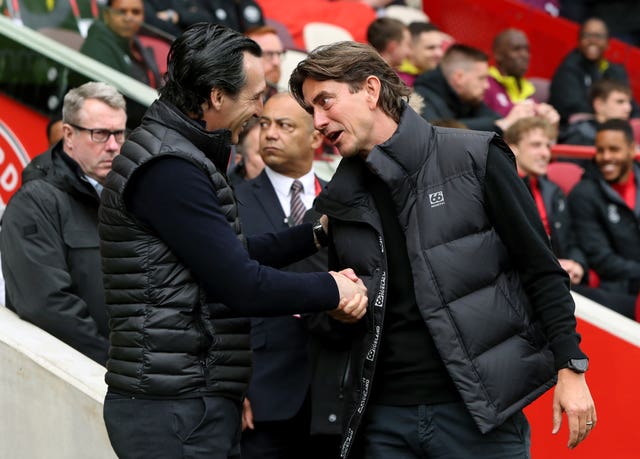 Frank agreed the organisation could be beneficial to clubs like Brentford in addressing collective concerns as a united front.
He added: "I think it's good. I think it is very important (because) when you speak to other clubs at the same level I think there's more to compare, and you have some of the same challenges that you can discuss and learn from those experiences. And that can hopefully add value to the wider group."