Players will "rightly be angry" about UEFA president Aleksander Ceferin proposing a salary cap in European football, according to Professional Footballers' Association chief executive Maheta Molango.
Ceferin said in an interview with Men In Blazers, published on Tuesday, that UEFA hoped to bring in a salary cap "as soon as possible" and that "everyone agrees" it is the best way forward, from big clubs to small clubs.
However, Molango insists limiting what players can earn is not the answer to achieving sustainability in the European game.
"Without proper engagement or consultation, players are continually being asked to play more and more games. New competitions are being created and existing tournaments expanded. These all generate more money within football.
"Capping the wages of those who create the 'product' that others continue to benefit from is not a solution to ensuring better financial management by leagues and clubs.
"Football's leaders are quickly going to create a real problem if they continue to treat players like this.
"They need to be treated as the game's most important stakeholders and must be central to these conversations."
In 2021 the PFA succeeded in a challenge to an independent panel to have squad salary caps of £2.5million and £1.5m in Leagues One and Two withdrawn.
PA understands UEFA will table the idea of an absolute cap at a meeting of its club licensing committee on Friday, which will be the starting point for analysis and consultation with stakeholders. However, world players' union FIFPRO will not be represented at the meeting.
UEFA had opted against pursuing a salary cap when it last consulted on cost-control mechanisms within the game on the basis that a cap would be unworkable under European Union labour law, PA understands.
Instead, UEFA approved a new squad cost rule, where by 2025 the amount spent on salaries and transfer fees must not exceed 70 per cent of a club's turnover.
However, an absolute cap is now back on the agenda and it is understood UEFA floated the idea again to the European Club Association earlier this year.
A senior executive within European football said there were vastly different viewpoints among clubs on how a cap could be implemented but anticipated it would place a limit on overall squad cost, rather than what a single player could earn.
Some clubs are known to favour salary caps, which provide greater certainty around costs, and a cap was understood to be part of plans for the European Super League which was launched in April 2021 but quickly collapsed.
Ceferin told US media outlet Men In Blazers: "In the future, we have to seriously think about a salary cap. If the budgets go sky-high then our competitive balance is a problem.
"It's not about the owners, it's about the value of the competition, because if five clubs will always win then it doesn't make sense any more.
"I already spoke with some people from the European Commission – we are trying to push that.
"But it has to be a collective agreement – every league and UEFA. Because if we do it and the other leagues don't, then it doesn't make sense.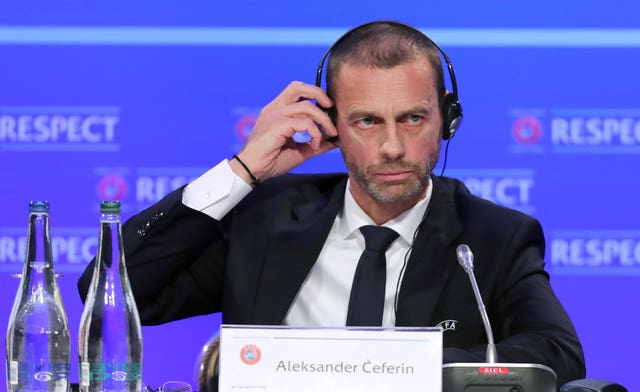 "I hope it can be made as soon as possible. We have just started to discuss about it. I think that's the solution."
FIFPRO issued its own statement later on Wednesday afternoon which read: "It is no surprise that employers in football would like to pay less wages – every other employer wants the same.
"More and more ideas from American sport are discussed in football but without accepting the legal foundation on which these are built – collective bargaining agreements with the player unions. There is no other way.
"It is also important to recognise that a salary cap and the current transfer system would be diametrically opposed, necessitating a serious conversation about which approach football wishes to adopt.
"While FIFPRO have not been part of such discussions so far, we trust that we will be involved in the upcoming ones to make the players' position on this issue clear."