Stephen Hendry criticised Mark Selby and Mark Allen for casting a "dark cloud" over the Crucible after the second session of their World Championship semi-final was halted three frames earlier than scheduled in Sheffield.
Selby battled back from a three-frame deficit to establish a 7-6 overnight advantage against his opponent after a gruelling session in which safety play prevailed and both players appeared reluctant to take on important pots.
Seven-time world champion Hendry, who was on punditry duty for the BBC, said: "A dark cloud came over the match table at the Crucible.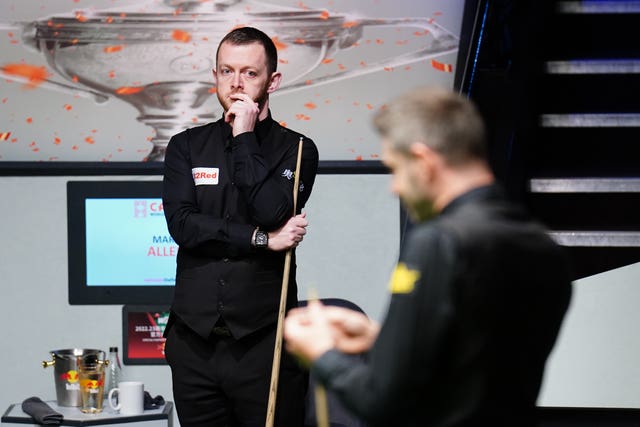 In complete contrast, Si Jiahui and Luca Brecel engaged in two thrilling sessions of their semi-final, with the Belgian reeling off the last five frames of the evening to trail his Chinese opponent 14-10 overnight.
Selby's clash with Allen, who has been criticised for his slow play this season despite lifting three titles, was always going to be more attritional, and it took a superb pink from the latter to finally clinch a 45-minute opening frame.
The four-time champion built on his reprieve as he recovered from 33 points down to take the 11th frame with a brilliant 95 clearance, and Allen paid for two more missed opportunities in the next as Selby duly levelled.
Another marathon frame went Selby's way before the duo shook hands and went off to prepare ahead of their scheduled return on Saturday morning and what promises to be a long-drawn out concluding session on Saturday evening.
The first semi-final could hardly have presented a greater contrast as Si, ranked 80 in the world, looked set to wrap up his place as the youngest ever Crucible finalist with a day to spare.
His stunning pot success impressed former world champion Dennis Taylor who told the BBC: "I've been coming to the Crucible since 1977 and I've enjoyed watching this young player as much as anyone I've ever seen here."
Si turned a 5-3 overnight advantage into an 11-5 lead at the end of the morning session, with a 122 clearance and back-to-back breaks of 89 and 58 sending him sailing closer to the winning line.
There was even more to come from Si when they returned in the evening, as successive clearances of 90, 132 – his fourth century of the match – and 97 put a stunned Brecel on the brink of an early exit.
But the Belgian, who had reeled off seven frames in a row to sink Ronnie O'Sullivan in the last eight, rallied again as he capitalised on some increasingly risky shot choices from his opponent.
A 108 got him on the board before the mid-session interval, and more dominant visits, in which he punished Si's errors of judgement, hauled him back to 14-9 ahead of a potentially pivotal final frame of the evening.
The drama continued as Brecel broke down on a break of 53, seemingly handing the frame to his opponent.
Si proceeded to pot a magnificent brown, only to leave a simple green in the jaws of the bottom pocket, giving a revitalised Brecel the chance to clear up, and the hope that he can still force his way into his first world final.