Sergio Perez blasted his way past Charles Leclerc to win the sprint race at the Azerbaijan Grand Prix.
Perez started second before moving ahead of Leclerc on lap eight of 17 in Baku to take the chequered flag 4.4 seconds clear.
Max Verstappen finished third, one spot ahead of Mercedes' George Russell. Lewis Hamilton started sixth and finished seventh.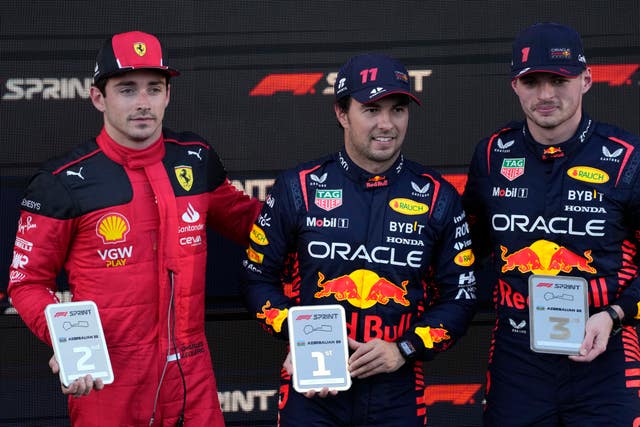 Leclerc claimed his second pole position of the weekend earlier on Saturday and started the 17-lap dash with a smart getaway to keep Perez at bay.
Verstappen was third on the grid, but had a fast-starting Russell for company at the first corner.
The reigning champion managed to keep ahead before Russell sensed another opportunity at the second bend.
Russell nudged Verstappen before carrying the momentum on the charge to Turn 3 to move ahead of his Red Bull rival. Cue an irate Verstappen.
"He tapped me," yelled Verstappen. "That's how he got the position, report it."
Moments after Russell barged his way past Verstappen, Yuki Tsunoda was on three wheels after he banged into the wall.
Tsunoda's right rear tyre fell off his AlphaTauri and bounced along the asphalt before resting in the middle of the track. The virtual safety car was deployed and then upgraded to a full safety car with debris from Tsunoda's wounded machine also littering the circuit.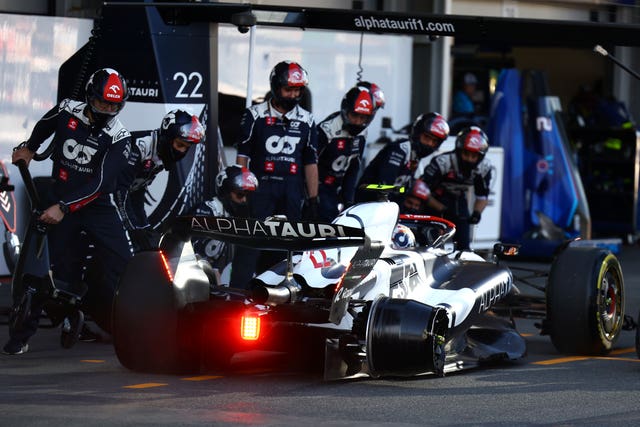 The FIA took a dim view of AlphTauri's decision to send Tsunoda back on to the track, with the governing body investigating the accident.
Back to Verstappen and the double world champion's mood did not improve when he was told he had sustained floor damage in the clash with Russell.
Verstappen was back on the radio, saying: "Did he really drive into the side of me? I don't get how he can damage my car and keep the position. I find it ridiculous".

Verstappen's race engineer Gianpiero Lambiase was on the radio to congratulate his driver. "Without contact as well, nicely done," he said.
"Yes, I know how to do that," replied Verstappen before he continued his rant with a series of bleeped-out expletives.
Hamilton was dicing with Carlos Sainz for fifth but the Ferrari man held firm. Hamilton ran out of room and Fernando Alonso snuck past, dropping the Briton to seventh.
Perez was starting to draw Leclerc in, and at the start of the eighth lap he breezed past his Ferrari rival on the 220mph drag to the first corner before cantering to the flag.