Tyrell Malacia says there is no chance of Manchester United's focus wavering as the mouth-watering FA Cup final against Manchester City draws closer.
Erik ten Hag has overseen an impressive turnaround in culture and quality at Old Trafford since taking over last summer.
United are pushing for a top-four finish, having already won the Carabao Cup, and June 3 offers another shot at silverware against potentially treble-chasing rivals City.
The all-Manchester FA Cup final may be looming large, but Malacia says it will not distract the squad from their final Premier League push.
"No, I think we have a lot of experienced players who have been in these kind of situations," the full-back said ahead of Thursday's trip to Brighton.
"We keep each other like a team and we focus on qualification for the Champions League.
"I think Brighton are a good team, very good football, quality players, so it's going to be a tough game.
"We have to focus on ourselves now, watch game-to-game and we need to win."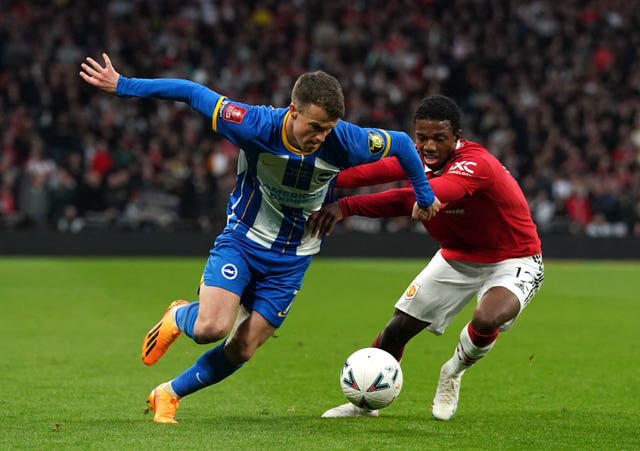 Bruno Fernandes' strike at Old Trafford ended Villa's 10-match unbeaten run and strengthened the Red Devils' grip on a Champions League qualification spot with six matches left to play.
"I think from now until the last game of the season it's important points, so we have to win every game now," Malacia said.
"It's not good that we dropped points (at Tottenham), but (against Villa) we played good and (won) important points."
As well as picking up three points, United recorded a 15th Premier League clean sheet – no mean feat given Villa's form and the absence of first-choice centre-backs Raphael Varane and Lisandro Martinez.
"We have a lot of quality in the team, so if someone drops out we know we have someone there with quality," Malacia said, who played left-back as Luke Shaw impressed centrally once again.
"Yeah (they are big players missing), but still we are Man United so we have a lot qualities and that's important."
On Shaw, the Netherlands international said: "We're helping each other before the game, before training. We always talk to each other, so it's good.
"From the beginning when I came here he always talked to me and spoke with me."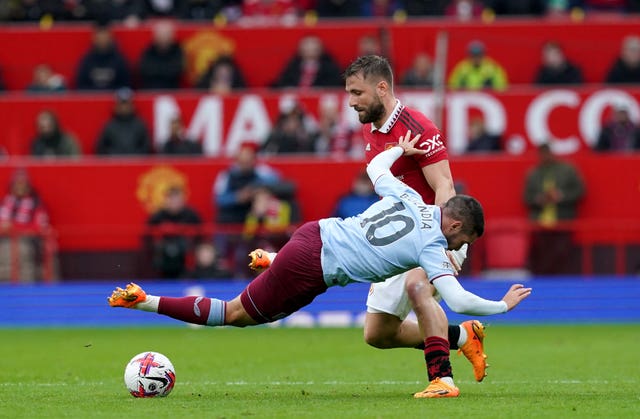 The 23-year-old became the first signing of the Ten Hag era after moving from Feyenoord for 15million euros (£12.95m), plus 2m euros (£1.7m) in add-ons.
"I said to myself maybe 20 games this season and I've played more than 20," Malacia said.
"I'm happy I'm here, I'm learning a lot. My first year in the Premier League, I've played a lot of games. I've learnt a lot of things, so happy to be here."
Asked if he has felt extra pressure playing for United, he said: "All good. I don't feel the pressure. For me, it's OK.
Malacia's delight to be playing at United comes with gratitude to Ten Hag, whose meticulous nature and approach the squad have bought into.
Put to Malacia that the manager seems demanding, he said: "Always, always (with) everyone.
"It's a good thing because it keeps us sharp and you have to be on your A-game, especially because he said we are a big club so we need to win prizes. Then we have to be on our A-game.
"Everything (he is demanding about). It's good because you see it work, so it's always good then."
Villa have their own demanding manager in impressive Emery, whose side will look to get back to winning way at Wolves on Saturday.
Leander Dendoncker told VillaTV ahead of the trip to his former club: "I don't think we played a bad game here.
"The next game is an away game as well, which is going to be tough as well.
"We just have to keep going, we have been outstanding in the last few weeks and we just have to keep going."