Issy Wong is raring to tackle an Australia side she rates as "one of the best sports teams in history" and believes the time is right for England to wrestle back the Women's Ashes.
The Southern Stars arrive this summer with a truly formidable reputation, having won each of the last four World Cup competitions as well as winning three and drawing one of their last four series against England.
On paper, the deck is stacked in their favour but Wong is happy to crank up the fighting talk.
She is less than a year into an exciting international career but, having played a starring role for champions Mumbai Indians in the recent Women's Premier League, the 20-year-old is in no mood to take a backward step.
"I think it's a pretty good time to play them, you know, just quietly," she said.
"They are undoubtably, in my opinion, one of the greatest sports teams in history – any sport, any gender. Their record over the last 10 years is absolutely outrageous.
"But it feels like that kind of golden era they've had is, you know…"
Wong left the rest of the thought unfinished, stopping short of fully tempting fate, but plans to find out if the tourists have it in them to match their own impeccable standards when the pressure is on.
"There's a lot of new faces in that group that are unbelievably talented but, I guess, haven't necessarily played the biggest part for them over the last couple of years," she said.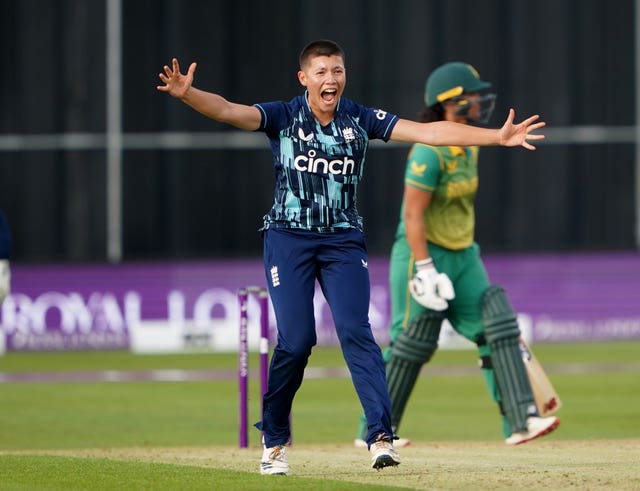 Despite Wong's lack of Ashes experience, she needs no help demystifying the opposition.
She shared a Birmingham Phoenix dressing room with Australia's star all-rounder Ellyse Perry in last year's Hundred competition, and will do so again in August, and opened the bowling against their skipper Meg Lanning in the WPL final.
The growing franchise circuit has helped close the gap between domestic and international cricket, allowing Wong to view world-beating rivals as individuals rather than untouchables.
"I've never played them but I don't view them as 'the Australians'. I think you've played against these guys so much that you kind of get to know them," she said.
"Those are the best battles because each person's having to adapt their game and do things a little bit differently. It's like chess. You don't want to watch a Grandmaster play against a six-year-old because it's just going to be rubbish.
"When you've got two people who've played against each other a lot, they're working each other out. And that's how the game is evolving.
"I think the Ashes is going to be amazing. It's the two best teams in women's cricket going up against each other over six weeks in every single format of the game. I don't think it gets much better than that."
The Women's Ashes takes place in June and July, starting with a five-day Test at Trent Bridge before three T20s and three ODIs.