Katie Taylor believes her career has been shaped by pressure moments so the Irish fighter doubts she will be overwhelmed by her homecoming against Chantelle Cameron later this month.
Taylor (22-0, 6KOs) is headlining the first major boxing card in Dublin since 2016, attempting to emulate Claressa Shields in becoming an undisputed two-weight world champion on May 20 at the 3Arena.
It will be her first professional fight in Ireland but, from winning gold at London 2012 to taking on Amanda Serrano at New York's Madison Square Garden last year, Taylor is accustomed to blazing a trail.
"I have the experience of fighting in these big occasions," the 36-year-old said. "I have the experience of fighting when there is a lot of pressure on my shoulders.
"I don't really see it as anything too outrageous in terms of what I've actually experienced before. Every single time I step into the ring I feel like there's a lot of pressure on me.
"I am just getting on with things, looking forward to the fight, I'm excited about it, I'm not feeling the burden right now, I'm just excited. This could be the biggest moment of my career so far.
"This is a huge occasion for me and I'm just delighted to have a chance to fight at home. A few years ago, I didn't think this was ever going to happen so I'm just so excited about it."
Security cost issues scuppered the initial plan while a switch of opponent was necessary after Serrano suffered an injury, but Taylor remains hopeful of one day fighting inside Ireland's largest stadium.
"I definitely haven't given up on it," she said. "I would absolutely love the opportunity to fight at Croke Park, our most iconic stadium, but these things are genuinely out of my control."
Taylor, who stepped up to the 140lb division and won the WBO title by beating Christina Linardatou in 2019, was taken to her limits by Serrano in April last year but earned a split decision victory.
She will face height and reach disadvantages against Cameron, who has won all 17 fights in the paid ranks, but Taylor insisted she is ready for whatever the Northampton fighter has to offer.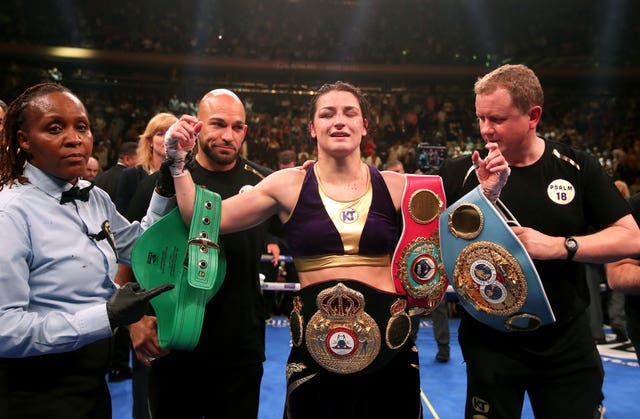 "I've had my eye on Chantelle for a few years now, this is a fight that I've always wanted. The motivation is as high as ever for this fight for me.
"It would have been a lot worse if I was going from Amanda Serrano to a mandatory opponent, a fight I can't really get up for. This is a fight where I am genuinely motivated for and she is as well.
"I'm going to have to be at my very, very best on fight night. People are saying this is going to be an even better fight than the Amanda Serrano fight so there is a huge appetite."