Vincent Kompany insists Burnley must be "smart" in the summer transfer window as they gear up for their return to the Premier League.
In his first season in charge, Kompany has guided the Clarets back to the top flight 12 months after relegation, winning the Sky Bet Championship title and reaching 101 points with a 3-0 victory over Cardiff in Monday's final game of the season.
The success came after Kompany oversaw a major overhaul of the squad last summer, when 13 senior players left and 16 arrived to replace them.
"We've been planning for comfortably six months for this scenario," Kompany told the PA news agency. "We're going to have to be smart but, because we've been planning for a long time, I feel confident we can improve the squad without losing what has been good for us this season.
"At the same time we have to make sure we don't go and bankrupt the club. It's about healthy decisions, protecting the club, but at the same time trying to be competitive."
Last week Kompany signed a new five-year Burnley contract, designed to end speculation linking him to Tottenham and Chelsea so that prospective new signings know who they will be playing for.
Kompany said the contract reflected how happy he is with his Turf Moor set-up.
"I've been in football for 20 years and I know how difficult it is to find a healthy environment in football," the former Manchester City captain said. "We've achieved something together now and that will count towards the future.
"It's a good environment with good people and that is special. I hope everyday fans will be proud of the work we do and even when it doesn't work out they know we work hard, we work our socks off for this club.
"I choose not to participate in the speculation. Everything I need to discuss I discuss openly with the chairman (Alan Pace). Other than that it's business as usual.
"Whatever happens needs to be something that makes sense. I speak with the chairman very openly. I protect the working environment more than anything else."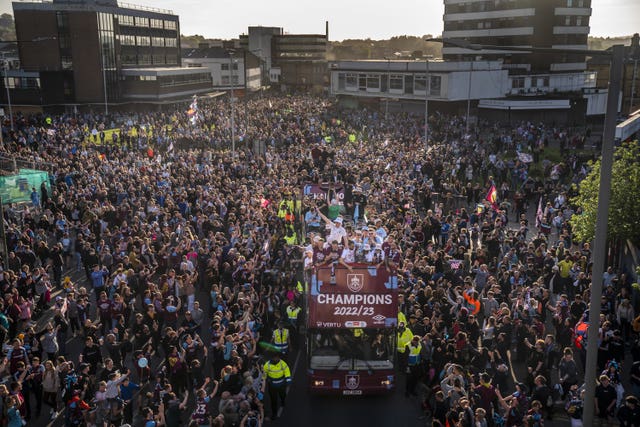 "I feel like I am more wanting to share this moment with many people, wanting to make sure many people enjoy this moment," he said. "As a player you feel like it is your moment. As a manager you feel like it is everybody's moment and you want to make sure everyone enjoys it.
"Only a chosen few get to experience what we are experiencing."
Kompany picked out home and away victories over rivals Blackburn as the highlights of the season, particularly the 1-0 victory at Ewood Park on April 25 that sealed the title. But he also said the reaction to the 5-2 loss to promotion rivals Sheffield United in November was vital.
"We got spanked, but after that we went on to win every game for 10 games (in the league) and that showed the character of this team," he said.
Kompany was part of the Manchester City side that racked up 100 points in the Premier League in the 2017-18 season, and now he has a triple-digit tally as a manager in the Championship.
Such records are often downplayed by managers in the moment, but Kompany said he could appreciate it now.
"When it's achieved you realise what it means," he said. "I'm happy for everyone we've been able to achieve this tremendous amount of points."
Burnley made their first move of the summer on Wednesday by activating the option to make Jordan Beyer's loan from Borussia Monchengladbach permanent, with the 22-year-old German defender signing a four-year contract after making 35 appearances this season.
"I couldn't be happier at the moment," he said on the club website. "Lifting the trophy on Monday, winning the league and now set to become a Claret on a permanent basis."