Sam Kerr says she loves the pressure of the big occasion and having the opportunity "to do something great" as the Chelsea striker prepares for Sunday's FA Cup final against Manchester United.
Among the numerous important goals Kerr has scored for the Blues since joining in 2019-20 are a brace in each of the last two finals, when Emma Hayes' side overcame Arsenal 3-0 and then Manchester City 3-2 after extra-time.
The prolific Australian also netted twice in stunning fashion on the final day of the 2021-22 Women's Super League season as Chelsea came from behind to beat United 4-2 and claim the title for a third successive year.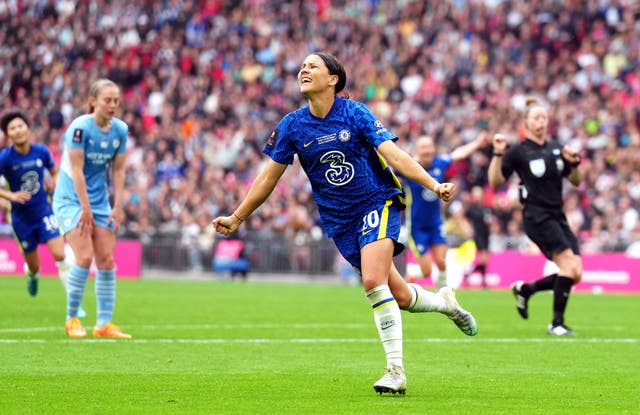 "So I get excited about these games. People are still talking about that Man United last game of the season, and for me that was so exciting. I think it's exciting when there's another moment like that on the horizon."
The 29-year-old also scored in Chelsea's two WSL wins over United this term, including the only goal in March's encounter at Kingsmeadow.
On the build-up to big matches, she added: "You can't think about losing ever – that's number one sin of a footballer.
"If you think about that, that's going to happen. I only think about the good things. Once you start thinking negative thoughts, that's the only way you're going to go.
Kerr, who is keen to stress she is a "very lucky player" in terms of getting "the most amazing service" from her team-mates, has scored 87 times for Chelsea and helped them win seven major trophies in her three-and-a-half years with the club so far.
And she has emphasised she feels like she still has "a lot more to give and a lot I want to achieve", adding: "For me it's about still getting better.
"Obviously you can't look into the future, but I see myself going bigger and better than what I am now, and hopefully continue winning trophies with this team."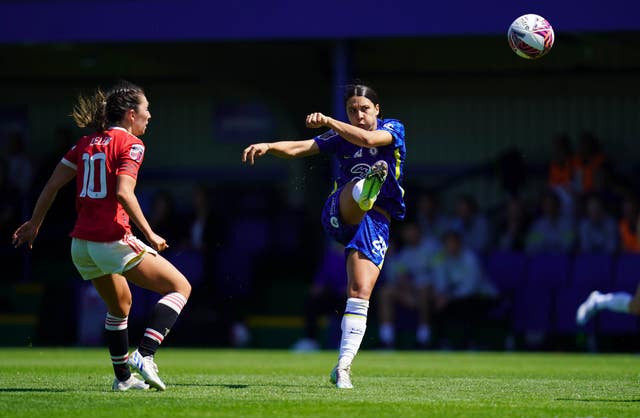 She said: "It's a bit crazy to think about it all to be honest.
"I think (I'll reflect) after this whole summer, after it's all said and done, but it's been an amazing journey to get here.
"It's not just about 2023. I think last year was amazing and then this year is obviously going to probably be the biggest year of my career and my life and something I'll remember forever.
"It's a whirlwind, but I'm enjoying it and I'm really proud to be a part of all of this change in women's football."