Marcus Rashford is a major doubt for Manchester United's match against Wolves on Saturday, handing Erik ten Hag a new injury headache just as Raphael Varane returns after a month out.
Ten Hag said that Rashford, United's top scorer this season with 29 goals, is struggling with a leg injury and is "more than doubtful" to play in a fixture United need to win to keep Liverpool at bay in the fight for a top-four place.
The injury comes at a time when United have been struggling for goals anyway, with only six in their last nine games.
"He's a big question mark for tomorrow but we are happy Rafa is back," the manager said.
"He has experience, he knows how to win and will lead us in how to win, he will guide us," Ten Hag said.
After an often indifferent season Liverpool have won six league matches in a row to close to within a point of United, albeit having played one game more.
United have offered Jurgen Klopp's men hope by losing back-to-back games 1-0 to Brighton and West Ham, but Ten Hag insisted he had no interest in Liverpool's form.
"Of course we can ignore it," he said. "Why not? Because it's not important. We have everything in our hands and as long as we have things in our hands, so we are in control, as long as that, we are not dependent on them. We are dependent on ourselves."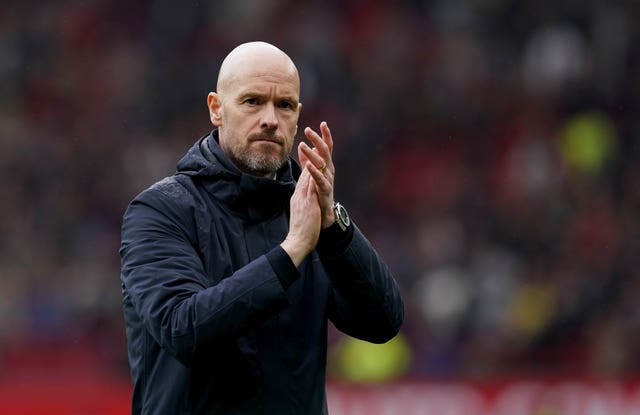 "We are convinced with what we are doing, we have a lot of success, we have won a lot of games," he said.
"The way we work, the way we're playing, the structures are really clear but we have to execute them and show 100 per cent discipline in rules and principles. When we do that, we are successful."
Wolves were bottom of the Premier League at Christmas but have defied the recent convention which suggests that spells doom, and are now assured of their Premier League status having moved on to 40 points with three games left to play.
"We have to take them seriously," Ten Hag said of Julen Lopetegui's side. "They have done a great job, but they also have deficits and we have to take advantage of that."
United have enjoyed a rare full week of preparation for this match in a packed season that has seen them already play 57 matches. After affording his players some time off, Ten Hag said he could see a difference this week.
"We had a week and we needed it to reset, to reload, to recharge and to get energy back because we had a lack of it in the last two games," he said. "I see a lot of energy, joy on the pitch, we could also work in detail on some facts, so was good."
Ten Hag insisted that good mood extended to goalkeeper David De Gea, who is out of contract this summer and who has seen his position questioned after his mistake proved decisive in the defeat at West Ham.
"We can't ignore it but individual mistakes are part of football and there was in the Brighton game also a big individual mistake," Ten Hag said.
"But sometimes it's happening, it shouldn't happen, when you are in the right focus it will not happen. That is part of the reset of this week."