Conversations between referees and VARs concerning some of the key incidents of the Premier League season will be aired for the first time during the next Monday Night Football programme on Sky Sports.
Howard Webb, the chief refereeing officer at Professional Game Match Officials Limited (PGMOL) will talk through the two-way audio discussions alongside Sky pundits Gary Neville and Jamie Carragher on May 15, the PA news agency understands.
PGMOL is determined to provide as much transparency as the game's laws allow by making this footage available as a one-off pilot.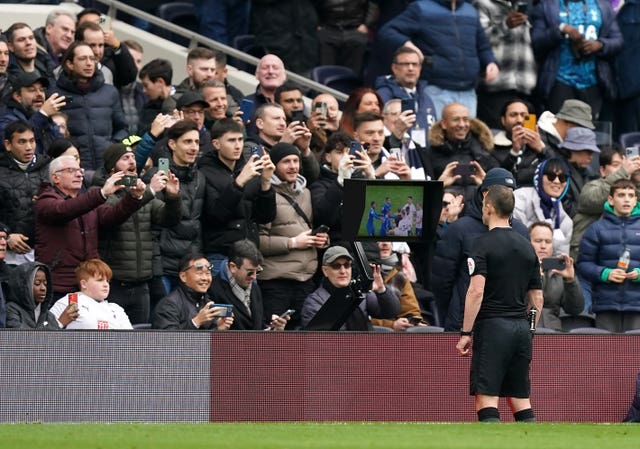 It is currently forbidden for the audio to be broadcast live in any competition in the world, but a trial is ongoing in selected FIFA events – including the Club World Cup earlier this year – where referees communicate the final decision reached after a VAR check to the crowd via the public address system.
The Monday Night Football programme will start at the earlier time of 6.30pm to allow for the usual pre-match build-up for the Leicester v Liverpool match before the VAR discussion involving Webb.
PGMOL has issued a number of apologies to Premier League teams over the course of the season in relation to VAR controversies.
However, statistics released last month looking at matches played in the English top-flight since its resumption after the mid-season World Cup painted an improving picture.
According to figures gathered by an independent key match incidents panel – which sits every week and comprises of three former players or coaches, one Premier League representative and someone from referees' body PGMOL – there were just four incorrect interventions from match rounds 17 to 30.
That is an average of one every 37.5 games in the Premier League. In the match rounds prior to the World Cup in Qatar there were six incorrect interventions – or one every 24.3 matches.
Webb joined PGMOL last year having been general manager at the Professional Referee Organization (PRO) in the United States.
"We want to try to change perception a little bit, be a bit more transparent and open," he said.
"Not everything we did in Major League Soccer will work over here, it is a different environment, but some things will."
Asked whether fans in England might get to hear audio of the conversations between officials and VARs in some form during the current season, Webb said in December: "I hope we get to that point where we are able to share some of that. I think people will find it interesting.
"Even if people don't agree with the final decision, if people understand the process and rationale they are much more accepting of the decision. We are not going to please everyone.
"The level of professionalism and the way they communicate is really good over here.
"I am looking forward to drawing that curtain back so everybody can see it.
"It is just giving a better understanding so they don't face unfair or unwarranted criticism.
"I know the frustrations. I have been to games where the referee has made a decision and you never hear from the ref or anybody around it and there was a mystery over why that decision was made.
"I understand why that causes frustration and even resentment at times. If we can look at ways to deal with that, then great."