Manchester United boss Marc Skinner believes clinching a first Champions League berth would give his club unprecedented sway when it comes to summer recruitment.
United owner Avram Glazer was in attendance at Wembley on Sunday to watch the women's side in their first FA Cup final against Chelsea and a determined performance might have inspired him to break out the chequebook despite a 1-0 loss.
Women's Super League leaders United still have a crack at the title and would seal a European spot by avoiding defeat against fourth-placed Manchester City on Sunday.
"We're in a growing phase," Skinner said. "We are growing and we are investing, but the experience that Chelsea have, the investment they've put in over years and years and years is a factor as to why they win.
"It doesn't take a rocket scientist to understand that, but I feel that we are bridging gaps even as we don't spend their type of budget, but I think we're bridging gaps and I think we can show a sustainable way of doing it, but we need to keep getting the best players, and we need to keep being in the pool for the best players.
"The last two games will go a long way to helping us do that if we can get into the Champions League. This is the club that you want to come to if you're a top talent. This is a club that's going places, and if you're out there and you want to come into here I'm sure you can get my number pretty quickly."
The current iteration of United's women's side was launched five years ago and earned promotion to the top flight at the end of their debut season in 2018-19.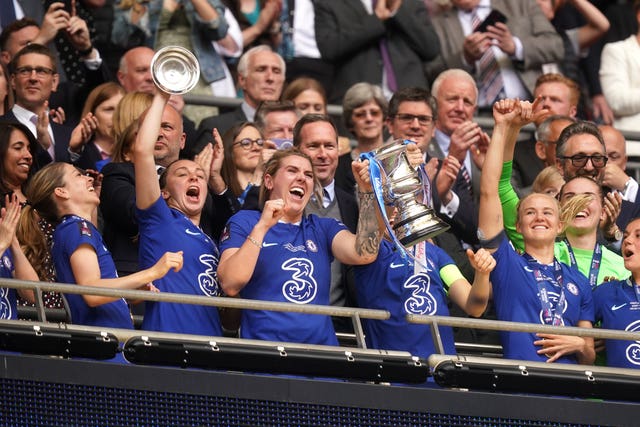 Boss Emma Hayes has enjoyed such a long and fruitful spell at Stamford Bridge since her 2012 appointment that Frank Lampard is the 11th different men's manager to have served during her tenure.
During that time, she has led Chelsea to a dynastic five FA Cups and the same number of Women's Super League titles alongside becoming a mum and award-winning pundit.
She said: "When I sit at home alone and think about the work we do every day and the sacrifices we all make, I know I've given my life to it. My little boy probably wants to see a bit more of me because I can't manage more than this and that.
"But what I know is that in elite performance you can't have work-life balance. It doesn't exist. So all I know is no matter what, I've given everything I can to the team, to the club, to put us in a place that I'm still a f***ing kid in Camden that has had an absolute ride of a time."