Jofra Archer's injury nightmare has taken another turn for the worse after he was ruled out for the entirety of England's Ashes summer with a fresh stress fracture in his troublesome right elbow.
Archer has not played Test cricket for more than two years but had hoped to make his return against Australia after a long and arduous journey that has included several bouts of surgery on his elbow, as well as a stress fracture in the back which derailed his planned comeback last year.
There must be now be grave doubts as to whether the 28-year-old will ever again be available for the rigours of the five-day format.
He made his first tentative steps towards full recovery earlier this year, featuring in England's limited-overs tours to South Africa and Bangladesh, but his body has once again broken down following a stint in the Indian Premier League.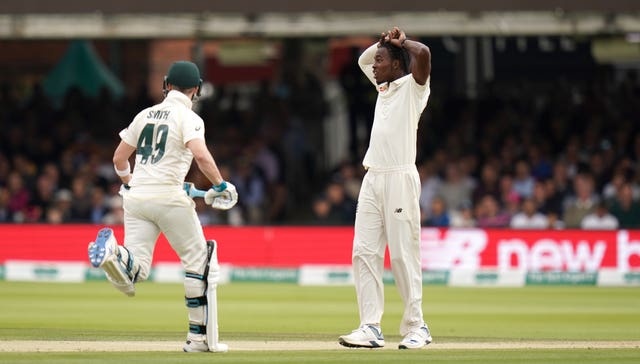 He reacted angrily on social media to reports of that trip and managed to bowl at express pace after returning to the IPL, but he was on his way home soon afterwards and England's worst fears have now been realised.
He was seen as a key figure in ruffling Australian feathers, as he did during his Test debut at Lord's in 2019 when an unforgettable duel with Steve Smith left the batter concussed by an unplayable bouncer.
A statement from the England and Wales Cricket Board read: "Sussex fast bowler Jofra Archer has been ruled out for the rest of the summer after recent scans revealed he has sustained a recurrence of a stress fracture to his right elbow. He will now spend time with the England and Sussex medical teams, who will work on his injury management."
I'm sure we will see Jofra back to his best and winning games for England, whatever the format. Hopefully, sooner rather than later."
"We wish him the best of luck with his recovery. I'm sure we will see Jofra back to his best and winning games for England, whatever the format. Hopefully, sooner rather than later."
Speaking in March, Archer acknowledged he would be unlikely to get through a full five-match series in less than seven weeks but had set his sights on playing a role.
"If I can play one game this summer, I'll be happy," Archer said. "If I play more than one, that's just a bonus.
"Coming back and playing cricket for England again means I have already done what I wanted to do."
Archer played the last of his 13 Tests against India in February 2021 and went on to have two separate operations to try and resolve the stress fracture in his elbow.
He has since missed two T20 World Cups, including England's victory in Australia in October, as well as the previous Ashes tour Down Under in 2021/22.
There have been reports that Mumbai had been looking to offer Archer a lucrative year-round contract, taking control of his playing schedule away from the ECB.