James Anderson is in bullish mood ahead of the Ashes, insisting England can hit a level "nobody in the world can cope with".
As the elder statesman of English cricket Anderson tends to steer clear of pre-series mind games – leaving the needling to fellow seamers Stuart Broad and Ollie Robinson – but as he prepares to play in his ninth series against Australia, he cannot hide his optimism for the summer ahead.
A minor groin strain means Anderson looks set to sit out the first home Test of the year, against Ireland at Lord's, leaving him to focus on the Ashes opener at Edgbaston on June 16.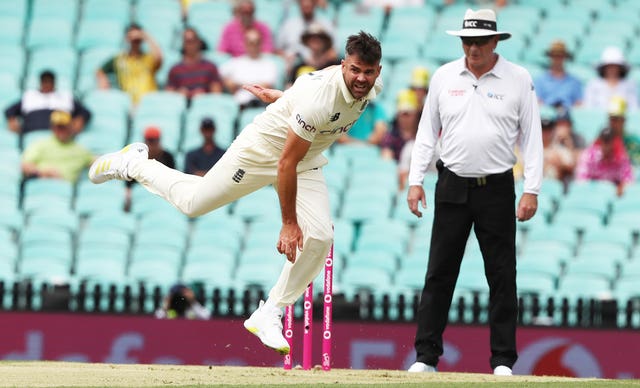 His long-time bowling partner Broad recently declared England's 4-0 defeat Down Under in 2021/22 as 'void' due to the hangover of Covid-19 restrictions and, although Anderson makes light of that assessment, he strongly believes the current side are a completely different proposition.
"I get his point with the Covid stuff but, for me, I've voided the last three away series. I've lost four out of five, I think. That's his coping strategy," he said with a smile.
"I'm aware of what has happened, but I've played long enough to be able to park everything that's gone before, good and bad, and focus on what's about to come.
"I'm just excited about the way we've been playing. It's about entertaining people and trying to enjoy ourselves while we do it. If you look at our team, if we play to the best of our ability with that mindset, I don't think anyone can cope with us. If we do what we've been doing and play as well as we possibly can, I think nobody in the world can cope with it."
Anderson's confidence is built on firm foundations rather than blind optimism. Since head coach Brendon McCullum and captain Ben Stokes took over last summer, England have won 10 of their 12 Test matches, playing a brand of daring, innovative cricket that has ripped up several chapters of the old rule book.
And Anderson, who has served under a host of England captains including the likes of Nasser Hussain, Michael Vaughan and Sir Andrew Strauss, has the highest possible praise for the all-rounder.
Speaking at the launch of Radox's partnership with England cricket, he was asked if Stokes was the best of the lot. He took a long pause before answering: "Yeah. It is hard to say over a short period of time, but he's had an amazing start.
"He's a born leader. I think he is completely different from any captain I've ever played with before and I've really enjoyed it. The way he trains, whether it's the gym or whether it's catching or batting or bowling, he is the ultimate professional."
"For me, it's the finer details, not just on the field where his tactical nous has been spot on, but also his emotional intelligence off the field and how he talks to everyone in the group."
Anderson admits with a grin to having "old man muscles" but, providing his current niggle does not get any worse, he is a shoo-in to take the new ball for the series opener in Birmingham. Yet with five Tests crammed into a window of less than seven weeks, he realises rotation is likely to be an important feature among the seam attacks on both sides.
"I think playing all five is a little bit optimistic, and not just for myself," he said.
"If you said to any of the bowlers (they'll play) three out of five, I think that's probably more realistic, more sensible. If it's four then great, but you've got to take it game by game."
:: Jimmy Anderson was speaking at a partnership launch announcing Radox as an Official Partner of England Cricket.