Sir Mo Farah said he and his family were "sucking it all in" after he continued his farewell with an eighth-placed finish in the Great Manchester Run 10K, the penultimate race of his career.
Britain's greatest distance runner posted a time of 29 minutes and 11 seconds as he took part in the event for the first time since winning it in 2018.
Farah, who came ninth in last month's London Marathon, is now set to conclude his glittering career with September's Great North Run, the race he won for six successive years from 2014 to 2019.
The four-time Olympic and six-time world champion, 40, said: "Today wasn't an easy race, the race was full of good athletes, but I gave it my all and again had great support.
"When I was coming back the last 2k, honestly – it was amazing support I got from the crowd, all the way through.
"I will miss it, because I love doing what I did over the years and I will the miss the crowd, the support. My mind wants to do it but my body can't quite do it, and obviously you've got to call it a day.
"But I'm also looking forward to retiring, spending time with my kids and hopefully still be involved in the sport and see what I can do.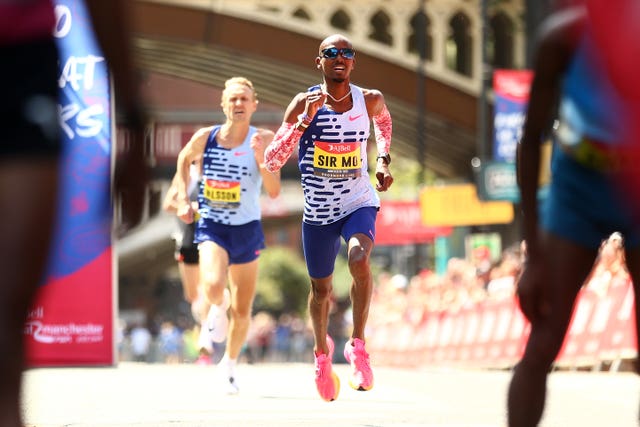 Farah said of the Great North Run: "I'm looking forward to that because I've taken part in so many, won it six times, and I want to close, for my retirement, there, because of the people, the support.
"I promised Brendan Foster 'one day you'll see me crossing that bridge in the lead', and I've done that six times – and hopefully one more time maybe."
Regarding the future beyond that, he added: "I'd love to be involved in the sport because that's all I know and I just love to see youngsters (with) a hurdle in their way and thinking they can do it.
"Obviously I've been talking to a lot of people who are still involved in the sport. I'm passionate about the sport, I love athletics and I love the people who achieve a lot, like Jake Wightman and Laura Muir, and there's a lot of youngsters coming through.
"Seeing them, it does motivate me, it does make me feel like 'wow'. And again, when you see that, you're like – 'what can I do?'
"It almost gives you an extra bit of energy of going 'there's something I can do', and it's just finding that right role, and hopefully in not too long."
The men's elite race was won by Italy's Eyob Faniel, who was 44 seconds faster than Farah and four seconds ahead of second-placed Briton Marc Scott.
Kenya's Hellen Obiri retained the elite women's title, clocking a time of 31 minutes 14 seconds.