Manchester City's stars hailed the club as "unstoppable" and one of the best teams in Premier League history after they clinched their fifth title in six years.
Arsenal's loss to Nottingham Forest on Saturday ensured City could not be beaten, and they sealed the achievement in style by defeating Chelsea 1-0 for their 12th consecutive league win.
Defender Kyle Walker told Sky Sports: "Obviously every one is a very special moment. I think to not be sitting at the top of the league for as long as we were, I think it was 11 points at one stage, so to then come back just needing a victory out of one of the three games, it's brilliant.
"This group of lads are second to none. They're professionals, they're winners, and I think that's how we get across the line more times than not. But we're not finished. We've got the FA Cup against our bitter rivals Manchester United and then we've got the Champions League final."
City face United in the FA Cup final on June 3 before meeting Inter Milan a week later as they chase a first Champions League crown.
"It would be fantastic but there's a lot of football to be played before we can start saying about the treble," said Walker.
"We've got two massive finals. I think, just for this club and this group of lads that I've been involved with for six years, to say we're up there with one of the greatest Premier League teams of all time, I think we have to go and conquer some of that.
"To go and get this, I think we can really stamp our mark on being one of the
greatest teams of all-time in the Premier League."
"I feel good in myself, I feel confident, back to my normal self and what I knew I could do."
Asked if City feel invincible, the England forward added: "It's mad because I spoke to some of the lads not long ago and I said, 'Imagine if someone would have said to you to win the league you've got to go and win 12 games in a row?'
"I'm not saying I didn't think we could do it but it was going to be difficult. We've got so much talent in this squad and I think at the moment we feel unstoppable."
"Debut season, 36 goals so far, Premier League trophy and two finals left – not a bad start."
Kevin De Bruyne is now an old hand at winning titles with City, and he added: "I know people expect us to win a lot but we work every day for this and a lot of people sacrifice for us so we're very grateful.
"I think sometimes it's more tough mentally than it is physically because you have to go again, again, again, but the team is hungry. I want to win more and keep going while I still can."
The emotions were a little different for midfielder Kalvin Phillips, who finally made his first Premier League start for the club.
"Obviously it was a great feeling," he said. "When I came in this morning the manager told me I was playing and I was just happy, to be honest.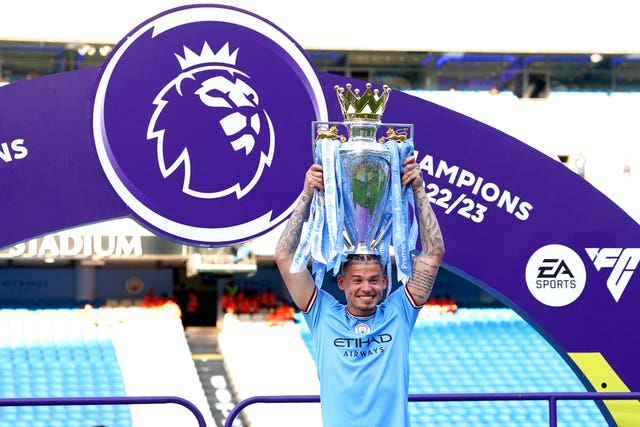 "It's been unbelievably tough, it's probably been one of the lowest points in myself, confidence-wise, in my career. But, with the guys around me, the leaders that have kept me going, they told me I'd get my chance and luckily today I did.
"I'm very lucky that I've got the guys around me to keep pushing me and working me as hard as possible."