Parliament is blocking TikTok from its devices and networks in the latest ban imposed on the Chinese-owned social media app over security concerns.
The Scottish Government also announced on Thursday that it will follow ministers in Westminster by banning the video-sharing app from official devices.
A spokesman for Parliament said TikTok "will be blocked from all parliamentary devices and the wider parliamentary network".
"Cyber security is a top priority for Parliament, however we do not comment on specific details of our cyber or physical security controls, policies or incidents," the spokesman added.
The Scottish Government is imposing the ban on official devices over concerns "on the potential tracking and privacy risks from certain social media apps".
Deputy First Minister John Swinney said: "Currently there is limited use of TikTok within government and limited need for staff to use the app on work devices.
"This ban will be implemented immediately. It does not extend to personal devices used by staff or the general public."
TikTok, owned by Chinese internet company ByteDance, argues that it does not share data with China.
But Beijing's intelligence legislation requires firms to help the Communist Party when requested.
"TikTok is enjoyed by millions of people in the UK, and potentially depriving users from access to and engagement with their representatives is a self-defeating step, especially in our shared fight against misinformation," a spokesman said.
"We are disappointed that, despite our requests, we have not been offered any opportunity to address concerns and only ask to be judged on facts and treated equally to our competitors.
"We have begun implementing a comprehensive plan to further protect our European user data, which includes storing UK user data in our European data centres and tightening data access controls, including third-party independent oversight of our approach."
The latest bans were announced as TikTok chief executive Shou Zi Chew made a rare public appearance to be grilled by the US Congress over data security and user safety.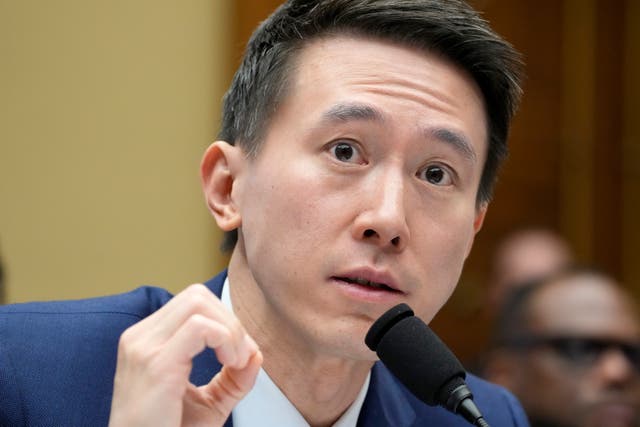 When the UK Government announced its ban last week, citing a risk to "sensitive" data, Beijing reacted angrily.
The Chinese embassy in the UK described it as a move "based on its political motive rather than facts" and said it will "ultimately harm the UK's own interests".
Mr Shapps vowed after the Government ban that he "will NOT be leaving TikTok anytime soon!" and was continuing to use it on his personal phone while taking "security measures".
After the Commons followed suit, a spokeswoman for the minister said: "Grant and his team don't use any parliamentary resources to communicate with the electorate and he takes appropriate security measures, but he also knows that politicians need to communicate with their voters."