Twitter owner Elon Musk has said the social media site will update the BBC's "government-funded media" tag after the broadcaster objected to the label.
The BBC contacted Twitter last week after the designation was attached to the main @BBC account.
He previously described the BBC as "among the least biased" news organisations.
In a statement released in the wake of the "government-funded media" designation, the broadcaster said: "The BBC is, and always has been, independent.
"We are funded by the British public through the licence fee."
The label links to a page on Twitter's help centre which says "state-affiliated media" are outlets where the government "exercises control over editorial content through financial resources, direct or indirect political pressures, and/or control over production and distribution".
That label was applied to US broadcaster NPR's Twitter handle, but it has been changed to government-funded media – the same as the BBC account.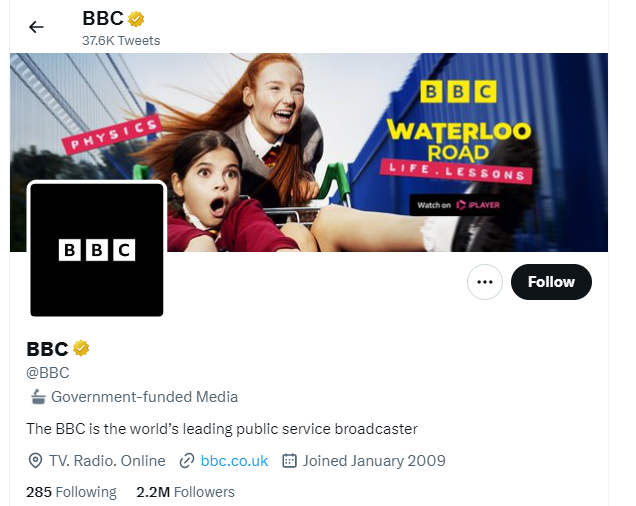 Britons pay a £159 licence fee each year to fund the corporation's output, which is set by government but paid by individual households.
While the BBC account, which has 2.2 million followers, has been given the label, much larger accounts associated with the corporation's breaking news and sport output are not being described in the same way.
The account mainly tweets about BBC-produced TV programmes, radio shows, podcasts and other non-news material.
Elsewhere in the wide-ranging interview, Mr Musk said Twitter is "roughly breaking even", as "most" of the site's advertisers have returned.
Following his 44 billion dollar (£38 billion) takeover of the platform in October, many advertisers paused work with the site over concerns about Mr Musk's approach to content and moderation.
"You can see (the increased advertising) for yourself on Twitter," Mr Musk said.
"Depending on how things go, if current trends continue, we could be… cash flow positive this quarter if things keep going well."
He also revealed legacy blue checkmarks will finally be removed by next week.
Mr Musk said last month that legacy-verified Twitter users would see their blue ticks removed from the service on April 1, unless they paid a monthly fee of 8 US dollars (£6.40) to its Twitter Blue subscription operation.
As a result, thousands of the platform's high-profile users were braced to lose the ticks, which can help verify their identity and distinguish them from imposters.
But the legacy blue ticks have remained in place past April 1.