The European Space Agency's mission to Jupiter and its moons has been postponed due to adverse weather conditions.
The six-tonne probe, named Juice (Jupiter Icy Moons Explorer), was due to head towards the solar system's biggest planet to see if its ocean-bearing moons support life.
But a lightning risk temporarily halted what would have been the agency's first attempt to send spacecraft to orbit another planet's moon.
Arianespace, which developed the Ariane 5 rocket carrying Juice, said on Twitter that the next attempt will take place on April 14 at 1.14pm UK time.
They said: "The Ariane 5 launch vehicle and its passenger Juice are in stable and safe condition."
Josef Aschbacher, director general of the European Space Agency, tweeted: "Not what we hoped for, but this is part of the game.
"Hopefully tomorrow we have clearer skies."
After lift-off, Juice is expected to separate from the rocket about half an hour later, and embark on a 4.1 billion-mile journey that will take more than eight years.
Juice has 10 instruments on board, which will investigate whether the gas giant's three moons Callisto, Europa and Ganymede, can support life in its oceans.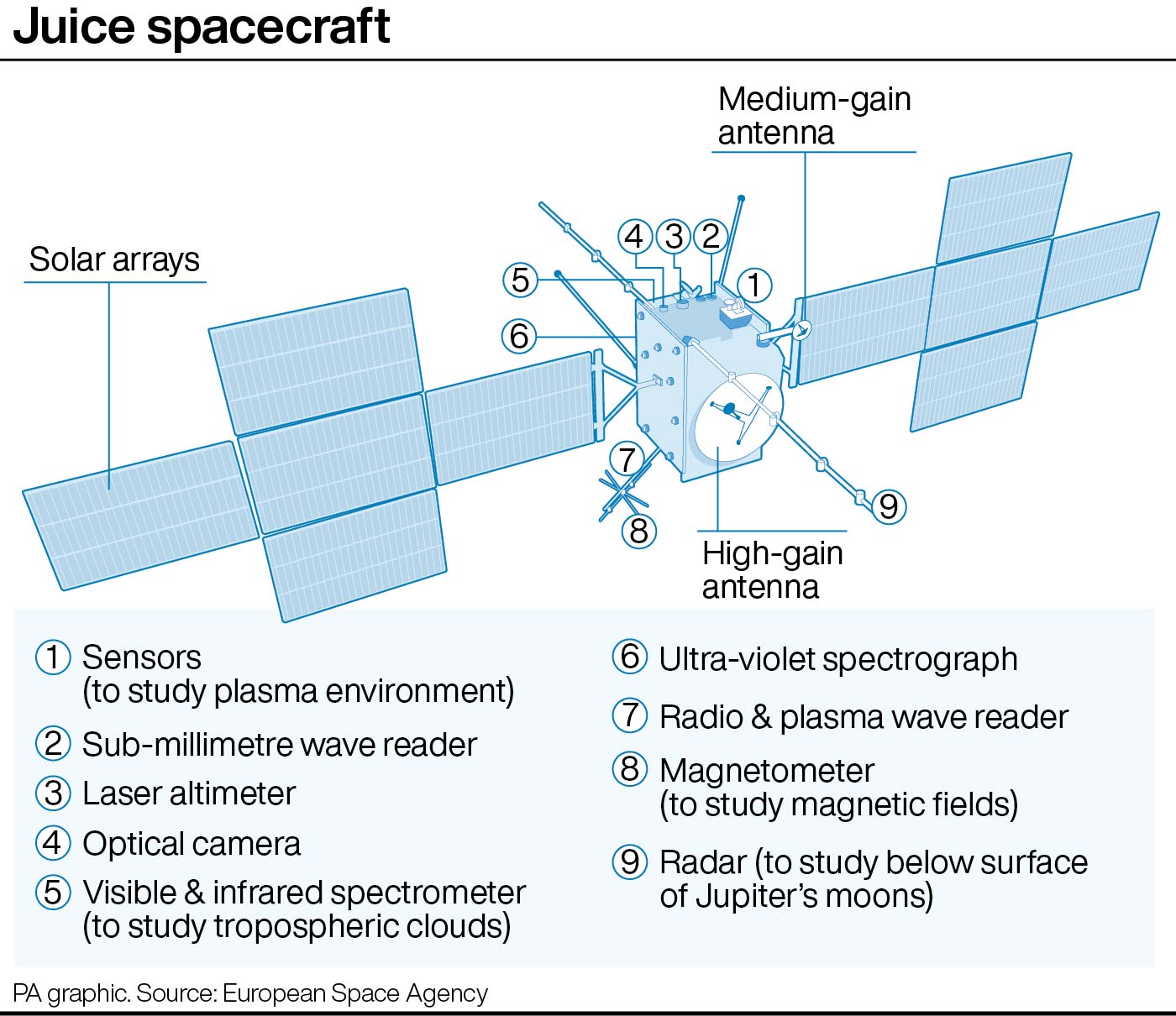 Called J-MAG, it will measure the characteristics of magnetic fields of Jupiter and Ganymede – the only moon known to produce its own magnetic field.
Engineers and mission controllers have very short launch windows to send the spacecraft on its journey.
This is because Venus and Earth need to be in the perfect position for Juice to perform a manoeuvre known as gravitational assist, where it will use the gravity of the planets to slingshot towards Jupiter.
Dr Ben Dryer, research fellow at the Open University, who was involved in the early stages of the Juice mission, said: "It is always a disappointment to see a launch delay, but really this is business as usual.
"Launch is always risky, so with such a precious payload, it makes sense to wait for perfect conditions.
"Due to the complex orbital manoeuvres required by Juice to launch it towards Jupiter while conserving as much fuel as possible, there is only a one-second launch window.
"If that launch window looks hazardous, it makes sense to postpone.
"There are one-second launch windows each day for the rest of April."