Apple has opened its first flagship store in India in a move that highlights the company's aspirations to expand in a country which it hopes to turn into a manufacturing hub.
Chief executive Tim Cook posed for photos with a few of the 100 or so Apple fans who had lined up outside the sprawling 20,000sq ft store in India's financial capital, Mumbai. The shop's design inspired by the iconic black-and-yellow cabs unique to the city.
A second store will open on Thursday in the national capital, New Delhi.
"India has such a beautiful culture and an incredible energy, and we're excited to build on our long-standing history," Mr Cook said in a statement earlier.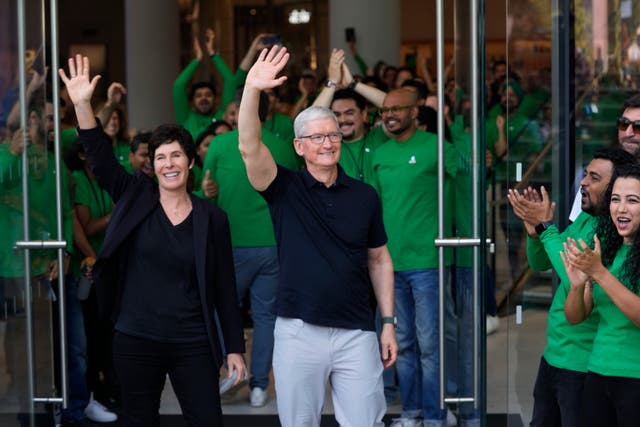 The stores are a clear signal of the company's commitment to invest in India, the second-largest smartphone market in the world where iPhone sales have been ticking up steadily, said Jayanth Kolla, analyst at Convergence Catalyst, a tech consultancy.
The stores show "how much India matters to the present and the future of the company", he added.
For the California-based company, India's sheer size makes the market especially encouraging.
About 600 million of India's 1.4 billion people have smartphones, "which means the market is still under-penetrated and the growth prospect is huge", said Neil Shah, vice president of research at technology market research firm Counterpoint Research.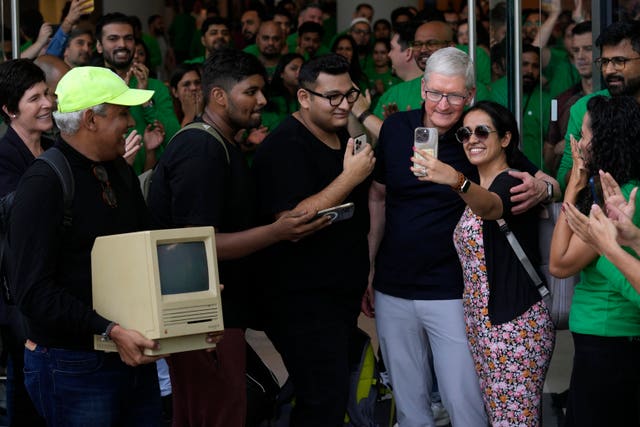 Still, the iPhone's hefty price tag puts it out of reach for the majority of Indians.
Instead, iPhone sales in the country have thrived among the sliver of upper-middle-class and rich Indians with disposable incomes, a segment of buyers that Mr Shah says is rising.
In September, Apple announced it would start making its iPhone 14 in India. The news was hailed as a win for Prime Minister Narendra Modi's government, which has pushed for ramping up local manufacturing ever since he came to power in 2014.
Apple first began manufacturing from India in 2017 with its iPhone SE and has since continued to assemble a number of iPhone models from the country.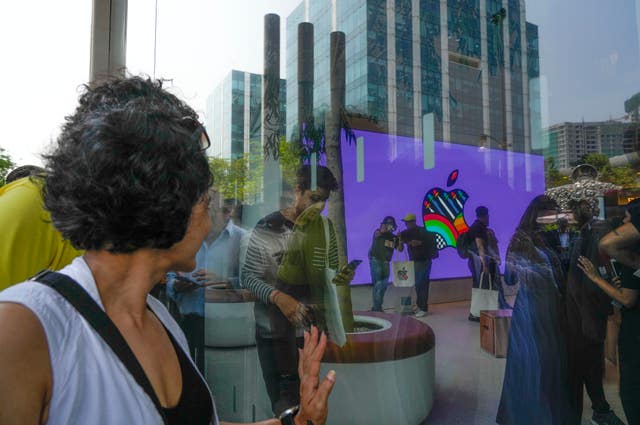 "Big companies got a jolt, they realised they needed a back-up strategy outside of China — they couldn't risk another lockdown or any geopolitical rift affecting their business," said Mr Kolla.
Currently, India makes close to 13 million iPhones every year, up from less than 5 million three years ago, according to Counterpoint Research. This is about 6% of iPhones made globally and only a small slice in comparison to China, which still produces around 90% of them.
Last week, India's commerce minister Piyush Goyal said the government was in regular touch with Apple to support their business and that the company had plans to have 25% of their global production come out of India in the next five years.
The challenge for Apple, according to Mr Shah of Counterpoint, is that the raw materials are still coming from outside India so the tech company will need to either find a local supplier or bring their suppliers, based in countries like China, Japan and Taiwan, closer to drive up production.
"For Apple, everything is about timing. They don't enter a market with full flow until they feel confident about their prospects. They can see the opportunity here today — it's a win-win situation," Mr Shah said.