Reality TV personality Georgia Harrison has said women and girls are being left "traumatised" by social media and called for specific protections to be included in the Online Safety Bill.
Her ex-boyfriend, fellow reality TV contestant Stephen Bear, was jailed for 21 months in March for sharing a private video of the couple having sex.
Speaking at a demonstration outside the Houses of Parliament held by women's charity Refuge on Wednesday morning, Harrison said: "Women are 100% being left traumatised by some aspects of social media.
The 28-year-old called for social media platforms to be "held accountable" for online harassment and abuse, and criticised the justice system for failing to "keep up".
She added: "I think change is long overdue. Social media is massively, rapidly growing. Children are spending far more time on social media than they are in the real world and unfortunately the justice system just hasn't managed to keep up with that.
"The Online Safety Bill is definitely the first step towards change, but we need women and girls to be included in that.
"Online, only the perpetrators are actually held accountable, and the platforms are allowed to carry on as if they don't know the illegal activity is happening. This cannot carry on in society – they need to be held accountable."
Ministers have confirmed plans to change the Bill so that social media bosses could face two years in jail if they "consented to or connived in ignoring enforceable requirements" to remove content which could be harmful to children.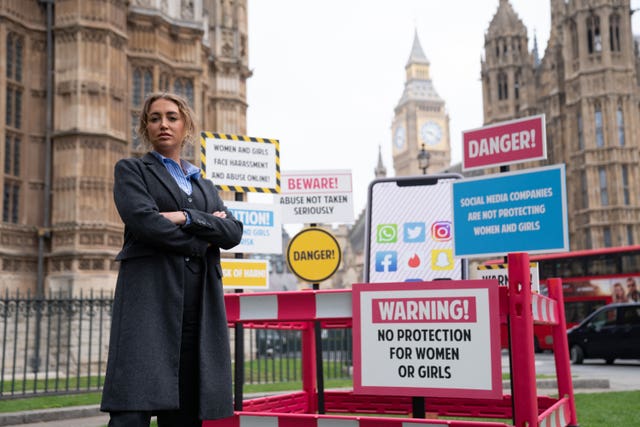 Refuge and other organisations are calling for a code of practice on violence against women and girls to be added to the Bill "to ensure social media companies respond to and prevent online violence" against this group.
It comes as the House of Lords begins its line-by-line scrutiny of the legislation in its committee stage on Wednesday.
Speaking about her own experience of sexual harassment online, Harrison said: "Every day, I am the recipient of unsolicited images, threats of sexual violence and misogynistic abuse online. This is unfortunately a common experience amongst young women.
"Due to the frequency of such messages, society has seemingly normalised this behaviour, and instead of putting onus on the perpetrators, we are forcing women and girls offline. This is not the solution.
"Today, I hope the Government and peers who are now looking at the Bill will listen to the thousands of Refuge supporters who have all taken action."
"With perpetrators remaining anonymous on social media platforms, I don't know if people who send me unsolicited sexual images live at the other end of the country or if they're my next-door neighbour, Gaffka said.
"The reality of causing harm is much closer to home, and that's something that I live in fear of.
"I want to encourage young women and girls to come forward and report sexual violence online. When one person reports, it's a lone voice. When all of us come forward together, it can have an impact."
Research from Refuge has found one in three women in the UK have experienced abuse or harassment online.