BT Group has said it will cut between 40,000 and 55,000 jobs by the end of the decade amid plans to shift to artificial intelligence (AI) and automated services.
The telecoms giant has around 130,000 employees but plans to reduce that number to between 75,000 and 95,000 by the end of the 2020s.
It means up to 55,000 roles could be cut over the five to seven-year period, amounting to more than 40% of the total workforce.
Some 10,000 jobs will go as BT digitises, and as customers rely more on online and app-based communication rather than call centres for things like account servicing and upgrades.
Chief executive Philip Jansen said advanced AI is a key part of the company's technological transformation plans.
He stressed that the AI shift will not mean customers will "feel like they are dealing with robots".
"We are multi-channel, we are online, we have 450 stores and that's not planning on changing at all. There are plenty of opportunities for our customers to deal with people at BT… plenty of people to speak to."
He added: "New technologies drive new jobs in the end. But that is the second stage and it's what we are all working on right now."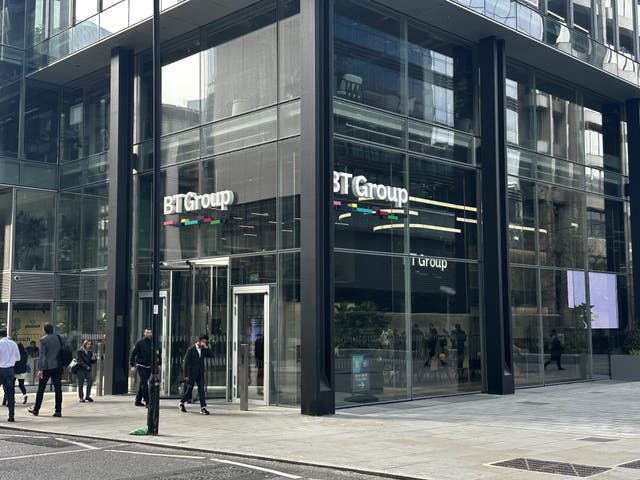 More than 15,000 roles will go when investment in full fibre begins to taper off, and more than 10,000 will disappear as the group stops running double networks like 3G and 4G.
"Overall effectiveness", such as the creation of its new business unit, will reduce another approximately 5,000 roles, it said.
Mr Jansen said: "By continuing to build and connect like fury, digitise the way we work and simplify our structure, by the end of the 2020s BT Group will rely on a much smaller workforce and a significantly reduced cost base.
"New BT Group will be a leaner business with a brighter future."
He added the firm would be working with its union partners throughout the job cuts and would also rely on natural attrition – when an employee leaves the company but is not replaced.
A spokesman for the Communication Workers Union (CWU) said the announcement of job reductions was not a surprise.
They said: "The introduction of new technologies across the company along with the completion of the fibre infrastructure build replacing the copper network was always going to result in less labour costs for the company in the coming years.
"However, we have made it categorically clear to BT that we want to retain as many direct labour jobs as possible and that any reduction should come from sub-contractors in the first instance and natural attrition.
"We have also stated that it's imperative that we should be in the room discussing and shaping the new skills required of the workforce as they move to a more digital network to ensure our members have a stable, secure career within BT well into the future; to which the company has agreed ongoing discussions with the CWU on these matters."